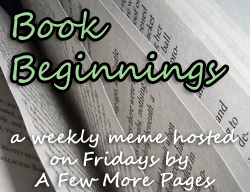 How to participate:
Share the first line (or two) of the book you are currently reading on your blog or in the comments. Include the title and the author so we know what you're reading. Then, if you feel so moved, let us know what your first impressions were based on that first line, and let us know if you liked or did not like the sentence. The link-up will be at
A Few More Pages
every Friday and will be open for the entire week.
Thanks to
Becky at Page Turners
for starting this meme and to
Rose City Reader
for inspiring it!
This week I'm reading a book off of my wishlist! Here are the first couple of lines from
Fiddler's Green by A.S. Peterson
(ISBN 9780982621417):
As soon as Fin Button stepped out of the captain's cabin, Topper was up to his old tricks. He stuck out his considerable chin, snapped his heels together, and tugged his shirt down over his belly. With a devilish smirk on his face, he called, "Captain on deck!" and the crew perked and turned.
I just can't tell you how excited I am to be diving into this book! I adored
The Fiddler's Gun
, and I already love this book as well. This beginning tells me that the book picks up shortly after the end of the last book and that Fin is still (somewhat reluctantly) captain of the
Rattlesnake
. The great thing? Fin is a girl. :)
So, what is the first line of your current read, and how did you like it? Please leave the link to your specific post, not just to the front page of your blog.
---
---