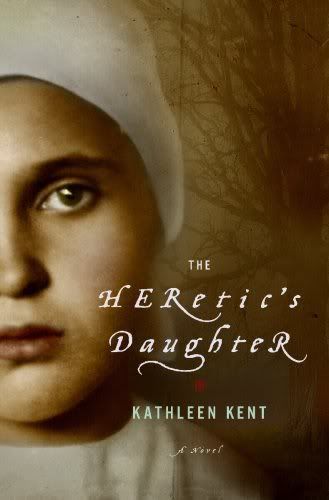 The Heretic's Daughter
by
Kathleen Kent
Genre:
Historical Fiction
Pages:
332
Date Published:
October 2009
Publisher:
Bay Back Books
Source:
I won a copy from
Bookin' With Bingo.
Rating:
5 of 5 stars
Book description
(from the
publisher
):
Martha Carrier was one of the first women to be accused, tried and hanged as a witch in Salem, Massachusetts. Like her mother, young Sarah Carrier is bright and willful, openly challenging the small, brutal world in which they live. Often at odds with one another, mother and daughter are forced to stand together against the escalating hysteria of the trials and the superstitious tyranny that led to the torture and imprisonment of more than 200 people accused of witchcraft. This is the story of Martha's courageous defiance and ultimate death, as told by the daughter who survived.
Kathleen Kent is a tenth generation descendent of Martha Carrier. She paints a haunting portrait, not just of Puritan New England, but also of one family's deep and abiding love in the face of fear and persecution.
❦❦❦❦❦❦❦
Martha Carrier has gone down in history as one of the nineteen people accused as witches who were hanged during the Salem Witch Trials. Ms. Kent is a descendant of the Carrier family, and in this book she has taken historical facts and woven them in with tales about Martha that have been passed down through the family.
The Heretic's Daughter
is told from Sarah Carrier's point of view. She was Martha and Thomas Carrier's daughter. Her story mainly takes place between 1690 and 1692, in the years leading up to and during the Salem Witch Trials.
Both Martha and Sarah were portrayed as outspoken, stubborn, prideful, and strong women, traits that would be threatening and unwelcome in women of the time. Their similar temperaments led to much friction between the two, with Sarah wishing her mother were more, well, motherly. But it wasn't until Sarah observed her mother's steadfastness and dedication to the truth during the Salem Witch Trials that she began to appreciate and better understand her mother.
Watching Martha as she was accused, jailed, and put to death for witchcraft through the eyes of her eleven-year-old daughter was heartbreaking. While others accused of witchcraft (including Sarah herself) confessed to it so they would not be put to death, Martha refused to do so because it was not the truth. It was so hard to read about the family as it struggled to hold itself together as the court in Salem hauled in Martha and several of her children, one by one. The scenes in the jail were especially hard, and when Martha's children in jail had to say goodbye to their mother and knew they wouldn't see her again, I was awash in tears. It was heart-wrenching. But the outcome of it all, despite the heartbreaking circumstances, was that Sarah finally accepted her mother for who she was and was proud to be her daughter.
...with every step I thought of my mother's courage as she faced her judges. With every step I thought of her cleaving to the truth even as she fell the short distance of the rope. With every step I thought of her pride, her strength, her love. And with every step I thought, I am my mother's daughter, I am my mother's daughter... (322)
I really, really liked this book. It was a bit hard to read because of the horrendous reality faced by those accused of witchcraft in Salem. It hurt my heart that there was so little compassion for the children, the sick, and the dying in that hideous jail. I know a bit about the history of the Salem Witch Trials and I felt like Ms. Kent did a very good job of portraying the events in a realistic way. Witchcraft accusations often seemed to be based on how well you got along with your neighbors rather than any real proof of witchcraft.
If, like me, you find this episode of American history to be fascinating and heartbreaking, this book is for you. It is not an easy read, but as a work of historical fiction it was moving and realistic.
Related Linkage:
Reading Challenges: Historical Fiction Challenge, TwentyEleven Challenge (TBR)