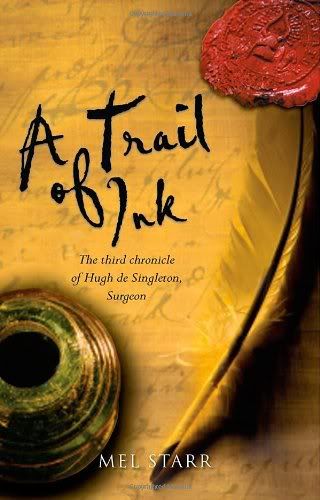 A Trail of Ink
by
Mel Starr
The third chronicle of Hugh de Singleton, surgeon
Genre:
Historical Mystery, Christian Themes
Pages:
240
Date Published:
February 2011
Publisher:
Monarch Books
Source:
I received a free review copy to be part of a
LitFuse Blog Tour
.
Rating:
4.5 of 5 stars
Book description
(from the
publisher
)
:
Some valuable books have been stolen from Master John Wyclif, the well known scholar and Bible translator. He calls upon his friend and former pupil, Hugh de Singleton, to investigate. Hugh's investigation leads him to Oxford where he again encounters Kate, the only woman who has tempted him to leave bachelor life behind, but Kate has another serious suitor. As Hugh's pursuit of Kate becomes more successful, mysterious accidents begin to occur. Are these accidents tied to the missing books, or to his pursuit of Kate?
One of the stolen books turns up alongside the drowned body of a poor Oxford scholar. Another accident? Hugh certainly doesn't think so, but it will take all of his surgeon's skills to prove.
So begins another delightful and intriguing tale from the life of Hugh de Singleton, surgeon in the medieval village of Bampton. Masterfully researched by medieval scholar Mel Starr, the setting of the novel can be visited and recognized in modern-day England. Enjoy more of Hugh's dry wit, romantic interests, evolving faith, and dogged determination as he pursues his third case as bailiff of Bampton.
❦❦❦❦❦❦❦
Historical mystery is one of my favorite genres, and I've been lucky this month to come across another great series to bury myself in!
A Trail of Ink
is the third book in a series about Hugh de Singleton, Medieval surgeon and bailiff. It is set in 14th century Oxford, and the mystery that Hugh finds himself investigating involves 22 books stolen from scholar John Wyclif (his entire personal library, plus two borrowed books).

The mystery over the theft of Wyclif's books is what initially drew me to this book, but as Hugh's investigation brings him closer to the truth the mystery becomes more complicated and suspenseful. He uncovers a web of rivalry among scholars, is targeted by the sheriff's son for winning the affections of Kate, and suddenly a case that was originally about missing books becomes one connected to kidnapping and murder.

While I found the mystery to be intriguing, I was won over by the characters. I loved Hugh's dry humor--the wit he employed in his descriptions of everything, from his lovely Kate to his enemies, often left me grinning. I also loved Kate, the stationer's daughter, who is the object of Hugh's affections. She is quietly intelligent, and her willingness to help him in his investigations adds a dimension to the story that I didn't expect. Kate seems to be the perfect partner to Hugh in more ways than one, and I have high hopes that in future books she will continue to be involved in his investigations (as she points out more than once, "four eyes are better than two.").

This was a fun read, with an engaging mystery and charming characters that I couldn't get enough of. I have not had the pleasure of reading any of the other books in the series, but I didn't feel lost at all without that additional background. This is one of those series books that I think can stand alone, though you may find yourself thirsting for more after you've turned the last page. I know I'm quite looking forward to diving into more books featuring Hugh de Singleton, surgeon.
Related Linkage: