Sorry this went up late today!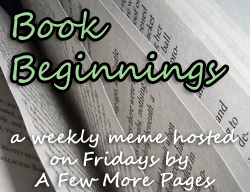 How to participate:
Share the first line (or two) of the book you are currently reading on your blog or in the comments. Include the title and the author so we know what you're reading. Then, if you would like, let us know what your first impressions were based on that first line, and let us know if you liked or did not like the sentence. The link-up will be at
A Few More Pages
every Friday and will be open for the entire week.
Thanks to
Becky at Page Turners
for starting this meme and to
Rose City Reader
for inspiring it!
I'm still working on the book I was reading last week (
Russian Winter
), so I thought I'd share the first line from a book that I read in February but haven't reviewed yet:
Bleeding Violet by Dia Reeves
. Here are the first few lines:
The truck driver let me off on Lamartine, on the odd side of the street. I felt odd too, standing in the town where my mother lived. For the first seven years of my life, we hadn't even lived on the same continent, and now she waited only a few houses away.
This is a good start to the book, since much of it focuses on Hanna's aching desire to be loved by her mother. But this isn't just the story of a mother and daughter finding each other, it is a fantasy set in a dark and dangerous town, with an unreliable narrator (this isn't really a spoiler, because that unreliability is made clear in the first chapter). It is definitely not my usual kind of read, but once I started it I couldn't put it down.
So, what is the first line of your current read, and how did you like it? Please leave the link to your specific post, not just to the front page of your blog.
---
---