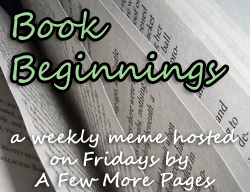 How to participate:
Share the first line (or two) of the book you are currently reading on your blog or in the comments. Include the title and the author so we know what you're reading. Then, if you would like, let us know what your first impressions were based on that first line, and let us know if you liked or did not like the sentence. The link-up will be at
A Few More Pages
every Friday and will be open for the entire week.
Thanks to
Becky at Page Turners
for starting this meme and to
Rose City Reader
for inspiring it!
This is a long-term read for me (I'm reading a chapter a week) and since I'm in-between fiction reads right now, I thought I'd share the beginning of this one. It's from chapter 1 of
John Adams by David McCullough
.
In the cold, nearly colorless night of a New England winter, two men on horseback traveled the coast road below Boston, heading North. A foot or more of snow covered the landscape, the remnants of a Christmas storm that had blanketed Massachusetts from one end of the province to the other.
I thought this was a vivid picture to paint in the first two lines of a non-fiction work of history. :-) I'm currently within chapter 3 and have really been enjoying McCullough's writing (you can see my
check-in for chapters 1-2 here
). Even from the first pages, I can see why this book won the Pulitzer Prize for Biography.
So, what is the first line of your current read, and how did you like it? Please leave the link to your specific post, not just to the front page of your blog.
---
---