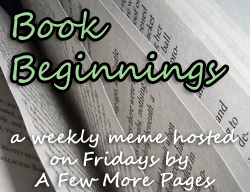 How to participate:
Share the first line (or two) of the book you are currently reading on your blog or in the comments. Include the title and the author so we know what you're reading. Then, if you would like, let us know what your first impressions were based on that first line, and let us know if you liked or did not like the sentence. The link-up will be at
A Few More Pages
every Friday and will be open for the entire week.
Thanks to
Becky at Page Turners
for starting this meme and to
Rose City Reader
for inspiring it!
This week I'm trying to finish a library book that needs to go back soon:
Maisie Dobbs by Jacqueline Winspear
(ISBN:
9780142004333). Here is the first line:
Even if she hadn't been the last person to walk through the turnstile at Warren Street tube station, Jack Barker would have noticed the tall, slender woman in the navy blue, thigh-length jacket with a matching pleated skirt short enough to reveal a well-turned ankle.
I have been so excited to start this series from the beginning ever since I read The Mapping of Love and Death (click here for my review), that when I read the first line of this book (and of the series), my inner fangirl squealed. I just knew that had to be Maisie, and I have been utterly enjoying every single page since then. I might just have to own this series, rather than checking it out from the library as I had planned.
So, what is the first line of your current read, and how did you like it? Please leave the link to your specific post, not just to the front page of your blog.
---
---