I had originally agreed to read and review this book through
Pump Up Your Book! Tours
, but I think it must have gotten lost in the mail. So after letting them know about the missing book, I decided spotlight the book instead on my tour date, since I do think the story sounds quite good. If the book eventually turns up, I'll put it on my TBR pile to read and review in the future.
Deed So
by
Kath Russell
Genre:
Historical Fiction
Pages:
238
Date of Publication:
November 2010
Publisher:
CreateSpace
Book Description
(from
Pump Up Your Book
)
:
Welcome to 1962, one year before the world would witness President John F. Kennedy assassinated, and a time before civil rights, women's rights, and the Vietnam War changed everything. Deed So by Katharine Russell chronicles the coming-of-age of brainy twelve-year-old Haddie Bashford, a sensitive young girl who wants nothing more than to leave the close-minded world of her home in Wicomico Corners. When Haddie witnesses the killing of a black teen by a down-on-his-luck white farmer, her family becomes embroiled in a web of hatred that threatens to engulf the whole town. Tempers flare and prejudice heats to a boiling point, even as Haddie struggles to fully comprehend what is going on, especially the dark consequences within her own family. When the murder case goes to trial, neighbor is pitted against neighbor, and the violence escalates to a dangerous level. As the case drags on, arson erupts, paralyzing the community. Can the town—and Haddie—survive?

Intertwining the major themes of struggle, equality, loyalty, and love that defined a generation, Deed So is a provocative snapshot of a tense time in history. Filled with larger-than-life characters, pitch perfect dialogue, and a wonderful sense of history, Deed So is as moving as it is thrilling. Haunting, edgy, and thought-provoking, this is a perfect read for fans of To Kill a Mockingbird or Nicholas Sparks.
About the Author:
Kath Russell enjoyed over thirty-five years in marketing and communications management in the biotechnology industry. She was an executive with one of the first genetic engineering companies. Russell also was president of Russell-Welsh Strategic Life Science Communications, Inc., and founder and chief executive officer of an ecommerce company offering services for mature companion animals and veterinarians. Russell received her bachelor's degree from Northwestern University, her master's degree in journalism from Boston University, her master's of business administration from the Kellogg School of Management, and earned her certificate in creative writing from the UCLA Extension Writers' Program.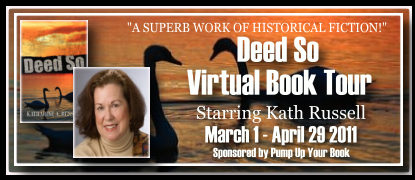 Links of Interest: