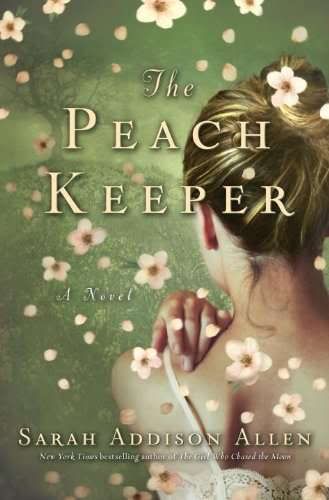 The Peach Keeper
by
Sarah Addison Allen
Genre:
Contemporary Fiction with a twist of magical realism
Pages:
288
Date Published:
March 2011
Publisher:
Bantam Books
Source:
I received an Advance Reader's Edition of this book from the publisher through
TLC Book Tours
.
Rating:
4.5 of 5 stars
Book description
(from the
publisher
):
It's the dubious distinction of thirty-year-old Willa Jackson to hail from a fine old Southern family of means that met with financial ruin generations ago. The Blue Ridge Madam—built by Willa's great-great-grandfather during Walls of Water's heyday, and once the town's grandest home—has stood for years as a lonely monument to misfortune and scandal. And Willa herself has long strived to build a life beyond the brooding Jackson family shadow. No easy task in a town shaped by years of tradition and the well-marked boundaries of the haves and have-nots.
But Willa has lately learned that an old classmate—socialite do-gooder Paxton Osgood—of the very prominent Osgood family, has restored the Blue Ridge Madam to her former glory, with plans to open a top-flight inn. Maybe, at last, the troubled past can be laid to rest while something new and wonderful rises from its ashes. But what rises instead is a skeleton, found buried beneath the property's lone peach tree, and certain to drag up dire consequences along with it.
Resonant with insight into the deep and lasting power of friendship, love, and tradition, The Peach Keeper is a portrait of the unshakable bonds that—in good times and bad, from one generation to the next—endure forever.
❦❦❦❦❦❦❦
This is another fantastic book from Sarah Addison Allen. Set in Walls of Water, North Carolina, the story explores the history of the town and takes on a decades-old murder mystery. There is a kind of gothic feel to this story, a bit different than what I expected, and a bit more gothic, I think, than the other books that I've read by Ms. Allen (
Garden Spells
and
The Girl Who Chased the Moon
). In fact, there is an element of the supernatural in this book as the ghost of the murder victim seems to be haunting the town with his peach fragrance.
The murder mystery angle was interesting and somewhat suspenseful, and as the story unfolds about the victim's character and actions in the town, his presence becomes more sinister. I enjoyed the way the characters had to dig into the pasts of the town and of their families to try to figure out why his body had been buried at the Blue Rose Madam and what the circumstances were behind his death.
But my favorite part of the book had less to do with the mystery and more to do with the relationships. The book really is more about friendships, family, and finding yourself than about a murder mystery. I loved the way that two very different women, Willa and Paxton, came together, despite their different backgrounds and pre-judgments about each other, to form a strong and lasting friendship that they had never imagined possible. Watching that friendship develop in this book was moving for me, and after I turned the last page I hugged the book. The last two pages brought tears to my eyes because of the beauty that their friendship had become.
Additionally, I liked seeing the various characters step out of their comfort zones, away from other peoples' expectations, and learn to embrace and be comfortable with themselves. For some reason, that aspect really resonated with me, as a person who just moved back to her hometown after a decade away and struggles with the expectations that people have of me just because they knew me growing up. Some of the characters were wrestling with that same feeling and it gave me hope to see them deal with that pressure in a constructive and healthy way. I think the setting also connected with me--a town on the edge of a national forest that survives mainly on tourist traffic (just like my town).
I really liked this book. The elements of magical realism didn't seem as obvious in this book as in the other books I've read by this author, but it gave an interesting twist to the story. This is a beautiful book that is full of hope, friendship, and love, and it seems to have been at the top of my TBR pile at just the right time for me. Recommended.
Related Linkage: