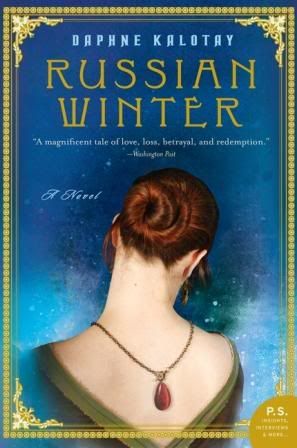 Russian Winter
by
Daphne Kalotay
Genre:
Contemporary/Historical Fiction
Pages:
496
Publication Date:
September 2010 (hardcover); April 2011 (paperback)
Publisher:
Harper Perennial
Source:
I received a free review copy from the publisher to participate in a
TLC Book Tour
.
Rating:
5 of 5 stars
Book Summary
(from the
publisher
):
When Nina Revskaya puts her remarkable jewelry collection up for auction, the former Bolshoi Ballet star finds herself overwhelmed by memories of her homeland, and of the events, both glorious and heartbreaking, that changed her life half a century earlier. It was in Russia that she discovered the magic of dance and fell in love, and where, faced with Stalinist aggression, a terrible discovery incited a deadly act of betrayal—and an ingenious escape to the West.

Nina has kept her secrets for half a lifetime. But now Drew Brooks, an inquisitive associate at a Boston auction house, and Grigori Solodin, a professor who believes Nina's jewels hold the key to unlocking his past, begin to unravel her story—setting in motion a series of revelations that will have life-altering consequences for them all.
❦❦❦❦❦❦❦
Russian Winter
begins with elderly former ballet star Nina Revskaya deciding to place her sizable jewelry collection up for auction to help provide funding to the Boston Ballet Foundation. Going through her collection dredges up memories of her life in Soviet Russia before she escaped to the West. The auction also brings Grigori Solodin back into her life, a man with many unanswered questions about the past. Throughout the story there are flashes forward and backward in time, showing how the past has shaped Nina into who she has become and explains how and why Grigori has sought her out for information.
I certainly found a lot of wonderful things to savor in this book. The historical storyline was fascinating, taking place in the USSR after World War II. I enjoyed being immersed in the busy and demanding life of a famous ballet dancer in Soviet Russia. I had no idea just how much time, dedication, talent, and practice was required from these dancers. Their lives revolved around their art, and their art was a part of them. Nina was also friends with other dancers, musicians, and writers, which was an interesting community to experience post-war Soviet Russia through. They were not the elites of the country, but they were better off than many other people were in that time and place.
Ms. Kalotay points out in the "Author's Note and Sources" that although Nina and her friends are fictional characters, she has based their experiences as artists, writers, musicians, and dancers in Stalin's Russia on the experiences relayed to us by those who actually lived as artists, writers, musicians, and dancers at the time portrayed. These creative and gifted people had a place in society, but they had to be careful that their artistic contributions were considered useful to that society. "Officially, art has a much greater purpose: to educate the population and serve the Revolution. Without social context, mere beauty is insufficient--at least, according to the lectures Nina has to sit through at the House of Art Workers" (132). Other interesting points that the story also touches on include the anti-Semitism of the USSR, the ways that citizens were expected to spy and inform on each other, how they were controlled when traveling outside of the USSR, and ways they found to escape.
The contemporary threads of the story captured my imagination as well. There was almost a mystery to the way the characters were tied together, and as Nina's past is revealed in the flashbacks, Grigori's story begins to unfold. Indeed, much of the suspense on my part concerned trying to figure out just how Grigori was connected to Nina's story. I had early suspicions, but the way it all came together in the end was unexpected, heartbreaking, and beautiful. Even though their connection wasn't nearly what I had expected, it underlines one of the realizations that Grigori comes to near the end, that "we are all connected" (450). The other main character in the contemporary storyline is Drew, the young woman researching Nina's life and jewelry for the auction. Her research helps uncover and answer the mysteries that Grigori had been seeking to solve, and reveals to Nina just how wrong she had been about some of the people in her past. Nina's realization that she had made a big mistake about the people she cared for the most, and that there wasn't anything she could do to make it up to them because they were all gone now--it made my heart ache for her. It would be awful to experience that.
This book was moving and breathtaking. Although I had a short stretch of frustration with the format of the story (the flashing forward and backward in time) about halfway through, I found that in the long run it was just a small hiccup that was probably just a symptom of my frustration at not being able to sit down and read the book without interruption. For my reading experience, this book was not one to read in small bites before bedtime but one to savor in longer stretches of reading on the weekends. This book was astounding and beautiful, and I am so glad that I read it. It ranks up there as one of my favorite reads of the year so far. I would gladly recommend it to anyone who enjoys historical fiction, mysteries, or just a beautiful story that explores relationships, secrets, and redemption.
This would also be a great book club choice, and TLC Book Tours has up to ten copies available in their Book Club of the Month Contest for April:
click here to learn how to enter to win for your book club
.
Related Linkage:
Reading Challenges: Historical Fiction Challenge