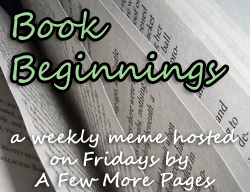 How to participate:
Share the first line (or two) of the book you are currently reading on your blog or in the comments. Include the title and the author so we know what you're reading. Then, if you would like, let us know what your first impressions were based on that first line, and let us know if you liked or did not like the sentence. The link-up will be at
A Few More Pages
every Friday and will be open for the entire week.
Thanks to
Becky at Page Turners
for starting this meme and to
Rose City Reader
for inspiring it!
This week I am working on
The Shape of Mercy
by Susan Meissner. Here are the first two lines:
I've heard the story countless times, how I grasped the delivering doctor's scrubs as he guided me into the Durough family universe of opportunity and duty. My father likes to say I came out of my mother's body insistent on being taken seriously, declaring to the doctor who held my slippery limbs that I was no helpless female unable to forge her way through the world of men.
Sounds like there will be some introspection going on in this book. I get the feeling that she might not agree with her father's depiction of her spunky strength at birth.
So, what is the first line of your current read, and how did you like it? Please leave the link to your specific post, not just to the front page of your blog.
---
---