Sorry this is late today! The week ran away from me again. I'm so looking forward to finishing up grading these essays....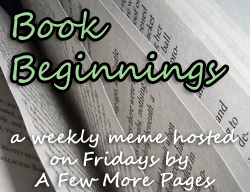 How to participate:
Share the first line (or two) of the book you are currently reading on your blog or in the comments. Include the title and the author so we know what you're reading. Then, if you would like, let us know what your first impressions were based on that first line, and let us know if you liked or did not like the sentence. The link-up will be at
A Few More Pages
every Friday and will be open for the entire week.
Thanks to
Becky at Page Turners
for starting this meme and to
Rose City Reader
for inspiring it!
I haven't really gotten much reading done this week, but here's a book I'm working on. It's
The Girl in the Gatehouse
by Julie Klassen. Here's the first line:
The end of the only life I've known, thought Mariah Aubrey, looking back through the carriage window at the shrinking figures of her mother and sister.
Very intriguing beginning! It has me wondering what has caused this new beginning--a marriage, a job, a scandal? I'm leaning towards scandal, since one of Klassen's earlier books was about a girl who was sent away for being pregnant out of wedlock (
Lady at Milkweed Manor
).
So, what is the first line of your current read, and how did you like it? Please leave the link to your specific post, not just to the front page of your blog.
---
---