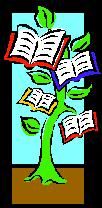 Here I am, sitting at my computer, grading book review discussions for the history classes I am teaching online (the term ends this week!). One of their main assignments for the term is to read a book from my list of non-fiction history titles (related to the topics covered in class), write a review, and then discuss it in our class discussion forum.
Although I think some of them are just saying it to look good in discussion,
it totally makes my day when they tell one of their classmates that their book sounds so interesting that they want to go read it too.
Besides the fact that it seems kind of rare for people to read non-fiction for fun, I am just so thrilled that my students are discovering new books to read and, accordingly, have new worlds to discover.
Proud teacher and book nerd here, hoping some of them actually do eventually pick up a book that this class has introduced to them.