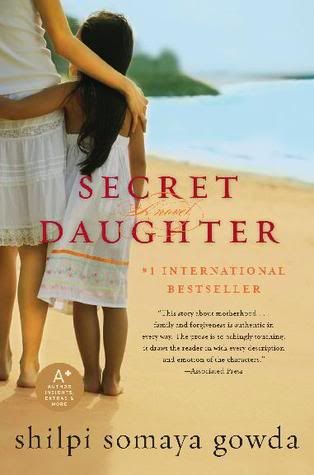 Secret Daughter
by
Shilpi Somaya Gowda
Genre:
Contemporary Fiction
Pages:
368
Publication Date:
March 2010 (hardcover); April 2011 (paperback)
Publisher:
William Morrow
Source:
I received a free copy of this book through
TLC Book Tours
.
Rating:
4 of 5 stars
Book Description
(from the
publisher
)
:
Somer's life is everything she imagined it would be—she's newly married and has started her career as a physician in San Francisco—until she makes the devastating discovery she never will be able to have children.
The same year in India, a poor mother makes the heartbreaking choice to save her newborn daughter's life by giving her away. It is a decision that will haunt Kavita for the rest of her life, and cause a ripple effect that travels across the world and back again.
Asha, adopted out of a Mumbai orphanage, is the child that binds the destinies of these two women. We follow both families, invisibly connected until Asha's journey of self-discovery leads her back to India.
Compulsively readable and deeply touching, Secret Daughter is a story of the unforeseen ways in which our choices and families affect our lives, and the indelible power of love in all its many forms.
❦❦❦❦❦❦❦
Secret Daughter touched on a lot more sensitive issues than I expected. It not only explores the emotions and conflicts of miscarriage, infertility, and adoption, but it also pulls the reader into the struggles of bi-cultural marriages, relationships between mothers and daughters, and the ongoing experience of finding yourself. So there were a lot of different focuses in this book, which at times was almost overwhelming, but also realistic (when do our lives ever just focus on one issue at a time?).
The main characters in the book are women, and their alternating points of view reveal how very different and yet how very similar we can be at the same time. Kavita, a poor woman in India whose family cannot afford to have more than one child, struggles with her decision to place her daughter in an orphanage. Throughout the book, we are pulled into her story as she celebrates the birth of a son, moves to the city and works hard to make ends meet, and forever wonders what became of her daughter. Somer is an American doctor, married to Krishna, an Indian doctor she met in medical school. When they learn they cannot have children, they decide to adopt a child from an orphanage in India. Asha is Kavita's birth daughter and Somer's adopted daughter. She grows up in America wondering about her birth mother and whether she would have understood her better than her adoptive mother has. Somer struggles with Indian culture, never really feeling like she totally "fits" in with her Indian husband and daughter, and is forever nervous about losing the daughter she wanted so badly.
As I mentioned, the story seems very realistic--the emotions, fears, and relationships are all very human and believable. But as relationships that tended to be pretty dysfunctional in the communication department, they started to annoy me after a while. Poor communication in a book will do that to me, but thankfully the characters eventually started to talk and understand each other better by the end of the book.
I think my favorite part of the novel began when college student Asha decided to study abroad in India. The move forced Somer, Krishna, and Asha to evaluate their relationships, and it was the beginning of healing and better understanding among them all. Plus, Asha's experiences in Mumbai were beautiful and interesting. She was studying the poverty of Mumbai as part of a journalism project, and that was when we started to see the storylines begin to re-connect. Kavita had lived in poverty in Mumbai, and while it was horrible through her eyes, it was even more shocking to see it through Asha's eyes. Having grown up in abundance in America, Asha had a bit of a different reaction to the squalid conditions of the slums than Kavita did.
I liked that Asha's experience in India helped her to better understand both her birth mother and her adoptive mother, and that she began to figure out who she was and what she wanted in life. It was a coming-of-age story in her case. I also really related with Somer in a few ways. She had kind of lost herself for a while, giving up aspects of herself to try to be the perfect mother and wife. When her daughter left home and went to India, she kind of had a crisis. That crisis helped her to find herself again, to be the woman she used to be. It revolutionized the way she saw herself, and it breathed new life into her relationships. I also thought it was interesting to see the differences between classes in India--Kavita was poor, while Asha's grandparents in Mumbai were much better-off. Their experiences were very different from each other, yet both depict the realities of life in that country.
I liked this book, but it is not an easy, fluffy story to breeze through. It deals with some heartbreaking issues (poverty, miscarriage and infertility, child abandonment, crime, etc.) that deserve to be talked about and are well-handled. If you are looking for a realistic story about adoption, life in India, the clash of cultures, or even the struggle to find oneself, I definitely recommend this book.
Related Linkage:
Reading Challenges: POC Reading Challenge