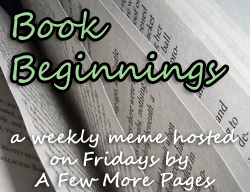 How to participate:
Share the first line (or two) of the book you are currently reading on your blog or in the comments. Include the title and the author so we know what you're reading. Then, if you would like, let us know what your first impressions were based on that first line, and let us know if you liked or did not like the sentence. The link-up will be at
A Few More Pages
every Friday and will be open for the entire week.
Thanks to
Becky at Page Turners
for starting this meme and to
Rose City Reader
for inspiring it!
It's that busy time of the term again--I'm grading finals right now. So since I haven't started anything new this week, I'll feature a book I read a few months ago that I haven't reviewed yet:
The Absolutely True Diary of a Part-Time Indian by Sherman Alexie
. Here are the first few lines (it's so great I have to share several lines):
I was born with water on the brain.
Okay, so that's not exactly true. I was actually born with too much cerebral spinal fluid inside my skull. But cerebral spinal fluid is just the doctors' fancy way of saying brain grease.
I loved the narrator, Junior, from the very first page. His life is difficult and depressing at times, but as a character Junior is funny and heartfelt and real and wonderful. I adore this book. I'm thinking I'll re-read it before I review it this summer.
So, what is the first line of your current read, and how did you like it? Please leave the link to your specific post, not just to the front page of your blog.
---
---