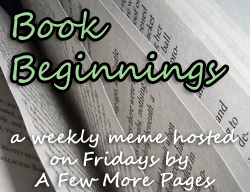 How to participate:
Share the first line (or two) of the book you are currently reading on your blog or in the comments. Include the title and the author so we know what you're reading. Then, if you would like, let us know what your first impressions were based on that first line, and let us know if you liked or did not like the sentence. The link-up will be at
A Few More Pages
every Friday and will be open for the entire week.
Thanks to
Becky at Page Turners
for starting this meme and to
Rose City Reader
for inspiring it!
I just ran out and bought a copy of this book yesterday because I've been so looking forward to it. The book is
Dreams of Joy by Lisa See
. Here are the first two lines:
The wail of a police siren in the distance tears through my body. Crickets whir in a never-ending chorus of blame.
I wasn't sure at first who was narrating this story, but it didn't take me too much longer to figure out that it's being told from Joy's point of view.
Shanghai Girls
was told from her mother's point of view, and since the end of that book revealed some pretty shocking secrets to her it should be interesting to see what Joy's take on all of it is. Can't wait to curl up with this one for a few hours!
So, what is the first line of your current read, and how did you like it? Please leave the link to your specific post, not just to the front page of your blog.
---
---