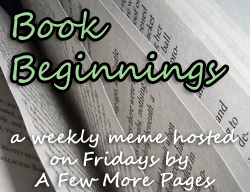 How to participate:
Share the first line (or two) of the book you are currently reading on your blog or in the comments. Include the title and the author so we know what you're reading. Then, if you would like, let us know what your first impressions were based on that first line, and let us know if you liked or did not like the sentence. The link-up will be at
A Few More Pages
every Friday and will be open for the entire week.
Thanks to
Becky at Page Turners
for starting this meme and to
Rose City Reader
for inspiring it!
This week I am reading
Hidden Affections by Delia Parr
. Here is the first line:
Annabelle Tyler may have hoped she would marry again someday, but she never dreamed she would be wearing handcuffs during the ceremony when she did.
I love this beginning! It caught my attention and curiosity immediately, and made me want to keep on reading to figure out why Annabelle was in handcuffs at her wedding! I'm loving this book--Delia Parr has quickly become one of my favorite Christian historical romance authors.
So, what is the first line of your current read, and how did you like it? Please leave the link to your specific post, not just to the front page of your blog.
---
---