Even though my blogging has been pretty spotty over the last few months, I've been flattered to have a few people award me with the: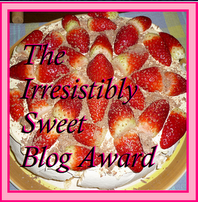 Darlene at Darlene's Book Nook
,
Cynthia Haggard at Spun Stories
and
Mickey at I'm a Book Shark
were so sweet to give me The Irresistibly Sweet Blog Award.
This award calls for me to share seven random facts about myself and award 15 deserving bloggy buddies.
Here are my random facts:
1. I am worried that I will never be able to read all of the books that I have accumulated.
2. My birthday is on July 3.
3. I have been married for 13 years to the guy I started dating during my Senior year of high school.
4. I have a tumblr blog called
Pages Worth Remembering
, where I post quotes from the books I've been reading.
5. I think I'm addicted to the internet (and so does my husband).
6. My kids both have white blond hair, and my hair is light brown.
7. I love avocado on just about anything.
I'm passing this award along to:
--
Emily at Realm of Words
--
Phaedosia at Book Hearth
--
Debbie at No Filter Mom
--
Kerri's Book Blog
--
Yvonne at Fiction Books
--
Shannon at Confuzzled Books
--
Margaret at Books Please
--
Margaret at Creative Madness
--
Lisa at Read, Breathe, Relax