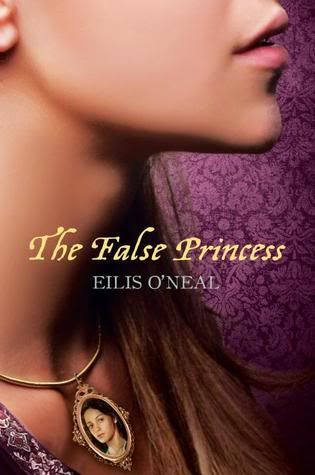 The False Princess
by
Eilis O'Neal
Genre:
YA Fantasy
Pages:
336
Publication Date:
January 2011
Publisher:
Egmont
Source:
Star Book Tours
Rating:
4.5 of 5 stars
Book Description
(from the
publisher
):
Princess and heir to the throne of Thorvaldor, Nalia's led a privileged life at court. But everything changes when it's revealed, just after her sixteenth birthday, that she is a false princess, a stand-in for the real Nalia, who has been hidden away for her protection. Cast out with little more than the clothes on her back, the girl now called Sinda must leave behind the city of Vivaskari, her best friend, Keirnan, and the only life she's ever known.
Sinda is sent to live with her only surviving relative, an aunt who is a dyer in a distant village. She is a cold, scornful woman with little patience for her newfound niece, and Sinda proves inept at even the simplest tasks. But when Sinda discovers that magic runs through her veins - long-suppressed, dangerous magic that she must learn to control - she realizes that she can never learn to be a simple village girl.
Returning to Vivaskari for answers, Sinda finds her purpose as a wizard scribe, rediscovers the boy who saw her all along, and uncovers a secret that could change the course of Thorvaldor's history, forever.
A dazzling first novel, The False Princess is an engrossing fantasy full of mystery, action, and romance.
✥✥✥✥✥✥✥
Imagine growing up as a princess, being educated and taught everything you needed to know to be the future queen. Then imagine being told that you were just a stand-in, a nobody raised as the princess to keep the real one safe from harm. And oh yeah, those people who you loved and thought were your parents were just using you. Ouch. Sinda's initial reaction of shock and numbness is probably how I would react to such an earth-shattering revelation.

Sinda's experience is painful as she struggles to figure out who she really is and adapt to the new life that she has been abruptly thrust into. She has to go live with a gruff and grumpy aunt she has never met and who assumed she had died as a baby. She tries to make friends, but she isn't really sure who she can trust. Once she starts developing some powerful (and uncontrollable) magical abilities, she finds her life turned upside down yet again. But she also begins to really get to know herself and to deal with the feelings of rejection and loneliness that she has been battling. She reunites with her oldest and best friend, who helps bolster her confidence that he cares for her not because of her status, but because of who she is.

Sinda also finds herself drawn to unraveling a mystery that seems to have fallen into her lap. The big switch of the false princess with the real princess doesn't seem quite right, and Sinda decides to track down the truth, even if she has to do it alone.

This was a wonderful story, with magic and mystery, friendship and love, and villains in the shadows. I enjoyed the characters and the story kept moving at a good pace. I felt like I could connect with Sinda's feelings, which helped me to sympathize with her plight and understand the decisions she made. And the cast of characters was well-rounded--none seemed too clichéd and there was often more to them than what was on the surface. This was a great YA fantasy that would be a fantastic summer read.
Related Linkage:
Reading Challenges: TwentyEleven Challenge (YA), Speculative Fiction Challenge