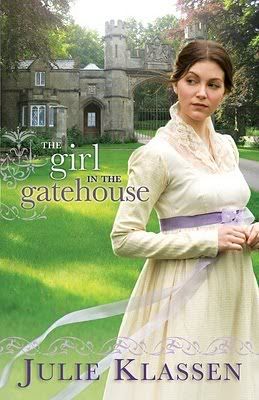 The Girl in the Gatehouse
by
Julie Klassen
Genre:
Christian Historical Romance
Pages:
391
Publication Date:
January 2011
Publisher:
Bethany House
Source:
This book was provided for review through the
Bethany House Book Reviewers
program (for more information on my reviews, please view my
disclosure policy
).
Rating:
4 of 5 stars
Book description
(from the
publisher
)
:
Banished from the only home she's ever known, Mariah Aubrey hides herself away in an abandoned gatehouse on a distant relative's estate. There she supports herself and her loyal servant the only way she knows how—by writing novels in secret.
When Captain Matthew Bryant leases the estate, he is intrigued by the beautiful girl in the gatehouse. But there are many things he doesn't know about this beguiling outcast. Will he risk his plans—and his heart—for a woman shadowed by scandal?
Intriguing, mysterious, and romantic, The Girl in the Gatehouse takes readers inside the life of a secret authoress at a time when novel-writing was considered improper for ladies and the smallest hint of impropriety could change a woman's life forever.
♦♦♦♦♦♦♦♦♦
Julie Klassen specializes in Regency romance titles, and I've enjoyed every single one of them. This one is no exception, though her earlier books are still my favorites.

The topics and themes in The Girl in the Gatehouse reminded me of Jane Austen's Persuasion (Captain Bryant was reminiscent of Captain Wentworth) and vaguely of Charles Dickens's Oliver Twist (mainly the poorhouse and the secrets within it). But despite the echoes of classics I've read and loved, this story is unique all on its own. Mariah has been banished from her family home to live in an old gatehouse on a relative's estate because of a scandal that has tainted her reputation. As the story unfolds the reader and Captain Bryant gradually learn what caused the scandal.

Captain Bryant may be chasing after the girl who rejected him, but the girl living in the gatehouse on the estate he is leasing has caught his interest as well. Mariah has a lot of secrets, including the fact that she writes novels, and her devotion to the people in the poorhouse next door is lovely. I loved the way that Mariah and her aunt end up being connected, even though the connection isn't uncovered until after her aunt's death. Her aunt's stepson Hugh was clearly not a good guy from the beginning, regardless of the facade he tried to put up. Some of the twists and turns near the end of the story seemed a little bit farfetched, but enjoyable nonetheless.

This was another charming Regency novel by Julie Klassen. How could I not enjoy a book that reminded me so much of my favorite Austen novel? Persuasion is the superior novel, but this was a pleasant read as well. Recommended to fans of Regency romance.

Related Linkage:
Reading Challenges: Historical Fiction Challenge