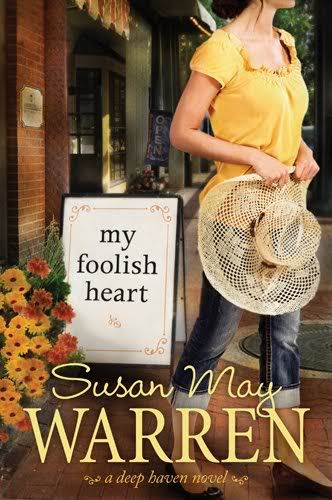 My Foolish Heart
by
Susan May Warren
Genre:
Contemporary Christian Romantic Fiction
Pages:
363
Publication Date:
May 2011
Publisher:
Tyndale House
Source:
I received a free review copy to participate in a
Litfuse Blog Tour
.
Rating:
5 of 5
Book Description
(from the
author's website
):
Unknown to her tiny town of Deep Haven, Isadora Presley spends her nights as Miss Foolish Heart, the star host of a syndicated talk radio show. Millions tune in to hear her advice on dating and falling in love, unaware that she's never really done either. Issy's ratings soar when it seems she's falling in love on-air with a caller. A caller she doesn't realize lives right next door.
Caleb Knight served a tour of duty in Iraq and paid a steep price. The last thing he wants is pity, so he hides his disability and moves to Deep Haven to land his dream job as the high school football coach. When his beautiful neighbor catches his eye, in a moment of desperation he seeks advice from My Foolish Heart, the show that airs before his favorite sports broadcast.
Before he knows it, Caleb finds himself drawn to the host—and more confused than ever. Is his perfect love the woman on the radio . . . or the one next door?
❦❦❦❦❦❦❦
Contemporary fiction doesn't always do it for me, but Susan May Warren's
My Foolish Heart
pushed all the right buttons. The cover is beautiful and I quickly came to care deeply about the characters. Once I started reading, I didn't want to stop. I couldn't turn the pages quickly enough.
Issy's problems with PTSD and panic attacks were so realistic and believable that it was easy to put myself in her shoes. She was trying hard to break out of the safe cocoon of her home, but it ended up taking the arrival of a new neighbor to get her to really make progress. Caleb's experiences as an Iraq war veteran gives him special insight to what Issy is going through--he could have ended up like Issy, but he found strength through God to move forward after being injured while on duty.
The way Issy and Caleb ended up finding each other--both on Issy's radio show and in real-life--could almost seem too coincidental, but I think it worked out perfectly. God often places just the right people in our lives at just the right time, and I think that aspect of the story was particularly enjoyable. They seemed so different from each other, but also ended up having so much in common below the surface. Their interactions on her talk radio show,
Miss Foolish Heart
, were comical at times and also moving because seemingly simple conversations had a lot of deep undercurrents to them.
By the end of the story, both Caleb and Issy had done a lot of growing and moving forward in dealing with their disabilities. Issy's transformation was especially remarkable, as she finally gives herself over to God's perfect love despite her imperfections. Issy's best friend Lucy experienced quite a bit of healing as well in her own life, as she came to forgive herself and her high school boyfriend Seb for mistakes they had made so many years ago. Seb's growth over the course of the book was also particularly inspiring. I enjoyed Lucy and Seb's story, which was kind of a side-plot to the main storyline.
I had a hard time putting this book down once I had started reading it. Even a couple of weeks after I finished reading it, I still find myself thinking about it. I think what has stuck with me the most was the character of Caleb. His being an injured Iraq war veteran is memorable in and of itself, but then I was also drawn to his character traits and his love for football. All around, this was a memorable and moving read, with realistic characters and a fantastic message about God's perfect love. This is my first time reading Susan May Warren, but it definitely will not be my last. I highly recommend it to anyone who enjoys Christian fiction.
Related linkage: