Blargh! Sorry for posting this late this week! I got busy yesterday and fell into bed instead of getting this post ready like I usually do on Thursday evenings.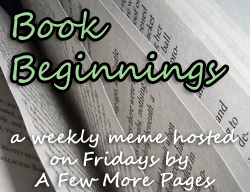 How to participate:
Share the first line (or two) of the book you are currently reading on your blog or in the comments. Include the title and the author so we know what you're reading. Then, if you would like, let us know what your first impressions were based on that first line, and let us know if you liked or did not like the sentence. The link-up will be at
A Few More Pages
every Friday and will be open for the entire week.
Thanks to
Becky at Page Turners
for starting this meme and to
Rose City Reader
for inspiring it!
This week I'm reading
The Secret Lives of the Four Wives by Lola Shoneyin
. Here is the beginning:
I didn't just happen upon this room; I dreamed of the pale green walls before I arrived.
I liked this beginning. It was a bit mysterious, and held some promise that perhaps the narrator's current situation was fated, somehow. But it also left you wondering if this room was a good place to be or a bad place. Was she happy to be there? I was definitely drawn to read more.
So, what is the first line of your current read, and how did you like it? Please leave the link to your specific post, not just to the front page of your blog.
---
---