Sorry I'm late today! I went to bed early last night with a pounding headache. I had hoped I'd wake up when hubby came to bed and type up this post, but I slept right through it.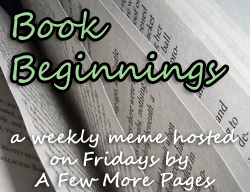 How to participate:
Share the first line (or two) of the book you are currently reading on your blog or in the comments. Include the title and the author so we know what you're reading. Then, if you would like, let us know what your first impressions were based on that first line, and let us know if you liked or did not like the sentence. The link-up will be at
A Few More Pages
every Friday and will be open for the entire week.
Thanks to
Becky at Page Turners
for starting this meme and to
Rose City Reader
for inspiring it!
I'm a fan of Naomi Novik's Temeraire series, so this week I've been reading
Victory of Eagles
. Here is the beginning:
The breeding grounds were called Pen Y Fan, after the hard, jagged slash of the mountain at their heart, like an ax-blade, rimed with ice along its edge and rising barren over the moorlands: a cold, wet Welsh autumn already, coming on towards winter, and the other dragons sleepy and remote, uninterested in anything but their meals.
This is a very descriptive beginning, and I think it makes a lot more sense to someone who has been reading the series in order. After the last book, where Laurence and Temeraire had committed what the British surely considered to be treason in giving the cure for a dragon disease to the French, it looks like this book starts where they've deposited Temeraire while Laurence awaits his sentence. Knowing Temeraire (he is a headstrong and very determined dragon), he will not be able to sit still in the breeding grounds for long with a war going on, and surely wouldn't sit back and allow Laurence to be executed. I'm looking forward to finishing this!
So, what is the first line of your current read, and how did you like it? Please leave the link to your specific post, not just to the front page of your blog.
---
---