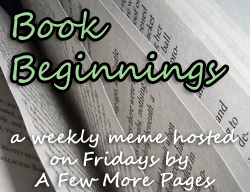 How to participate:
Share the first line (or two) of the book you are currently reading on your blog or in the comments. Include the title and the author so we know what you're reading. Then, if you would like, let us know what your first impressions were based on that first line, and let us know if you liked or did not like the sentence. The link-up will be at
A Few More Pages
every Friday and will be open for the entire week.
Thanks to
Becky at Page Turners
for starting this meme and to
Rose City Reader
for inspiring it!
This weekend we're going out of town for a couple of days (to the lovely, cool weather at the beach!) and I'll be reading
Highland Sanctuary
by
Jennifer Hudson Taylor
. It's my first NetGalley read, so I'm kind of excited to try this out. Here is the beginning:
Scotland, 1457
The ordeal over, fragmented tremors still quaked through Evelina Broderwick's body. She gazed down at her new daughter. Now, she'd finally have someone who would truly love her.
What a great beginning! I think it is that third sentence that really does it for me. Evelina has obviously been through the ordeal of childbirth (and what an ordeal it would be in 1457!), and she is happy because she finally has someone who will love her. What a sad thought! But it is also an interesting start to a story!
What is the first line of your current read, and how did you like it? Please leave the link to your specific post, not just to the front page of your blog.
---
---