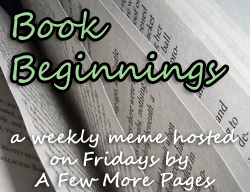 How to participate:
Share the first line (or two) of the book you are currently reading on your blog or in the comments. Include the title and the author so we know what you're reading. Then, if you would like, let us know what your first impressions were based on that first line, and let us know if you liked or did not like the sentence. The link-up will be at
A Few More Pages
every Friday and will be open for the entire week.
Thanks to
Becky at Page Turners
for starting this meme and to
Rose City Reader
for inspiring it!
This week I've been reading
Little Black Dress by Susan McBride
, which I'll be reviewing as part of a TLC book tour in a couple of weeks. Here are the first few lines (from the ARC):
I never meant to resurrect the dress. I had intended for it to remain out of reach so there would be no more meddling. But I awoke before dawn with tears in my eyes after another strange dream about Anna, and I knew that I had to find it.
Nice beginning! It leaves me wondering about this dress--why would it result in meddling, and why had she hidden it away? Who was Anna, and what did the dress have to do with her? I'm already hooked (and so far it's been a fantastic read)!
What is the first line of your current read, and how did you like it? Please leave the link to your specific post, not just to the front page of your blog.
---
---