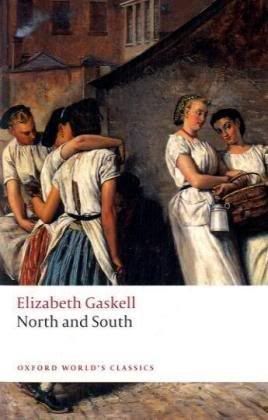 North and South by Elizabeth Gaskell
Genre:
Classic Fiction
Pages:
436
Publication Date:
1854-5 (I read a 1998 reprint)
Publisher:
Oxford World's Classics
Source:
Paperback Swap
Rating:
5 of 5 stars
Book Description
(from the back of the cover)
:
'she tried to settle that most difficult problem for women, how much was to be utterly merged in obedience to authority, and how much might be set apart for freedom in working.'
North and South tells the story of Margaret Hale, a southerner newly settled in the northern industrial town of Milton, whose ready sympathy with the discontented millworkers sits uneasily with her growing attraction to the charismatic mill owner, John Thornton. The novel poses fundamental questions about the nature of social authority and obedience, ranging from religious crises of conscience to the ethics of naval mutiny and industrial action. Margaret's internal conflicts mirror the turbulence that she sees all around her.
♦♦♦♦♦♦♦♦♦♦
After watching the wonderful BBC mini-series
North and South
, I became newly interested in reading the book that it was based on. Set in Victorian England, I've heard people compare this book to Jane Austen's
Pride and Prejudice
, but with an industrial setting. After reading the book, I can definitely understand why people make that connection. But I also think
North and South
is more than that--to label it as a rehash of
Pride and Prejudice
is to insinuate that there is nothing different about this book beyond the setting (which is incorrect in my humble opinion).
The similarities lie in Margaret's initial reaction to Mr. Thornton and her later change of heart. But Margaret and Mr. Thornton are quite different from Elizabeth and Mr. Darcy. Margaret is the daughter of a former vicar, who has resigned his position because of his conscience (he does not agree with all church doctrine, so he feels he cannot continue as vicar). The Hales relocate from Helstone, an agricultural region in the South to the industrial town of Milton, in the North, where Mr. Hale becomes a private tutor. Their lives are greatly changed by this move, and Margaret spends much of her time missing Helstone and disliking Milton.
Despite her unhappiness, Margaret finds friendship among the millworkers and develops sympathy for their poverty and workplace struggles. Her father's newest friend and student, John Thornton, is a mill owner. Although she feels less inclined to develop a friendship with him (she has a lot of disdain for the mill owners), she does seem to care what he thinks of her even as she argues with him about the differences between the north and south and the relationships between millworkers and mill owners.
When the millworkers strike for better wages, Margaret finds herself in a situation where she essentially steps in to save Mr. Thornton's life from a mob of workers on the brink of violence. She rationalizes it as something she would do for anyone, and that she did it as much for the workmen as for Mr. Thornton, but he is greatly moved by her actions and professes his love for her. She rebuffs him, and they begin a long period in which he silently pines for her and she wishes her reaction had not altered his friendship with her father. Thornton also gets to know his workmen better (through the hiring of one of Margaret's friends) and makes changes at his mill that encourage better relations between workmen and owner and better conditions at the mill. He becomes a man that Margaret begins to appreciate and admire.
There is a lot to be said about a romance that begins one-sided, and then becomes mutual when the couple gets to know each other better. I think Margaret matured a lot over time, realizing that her younger idealistic self might have let her prejudices about Milton and her sympathy for the workingmen keep her from understanding Mr. Thornton's side of things. And Margaret seemed to have an influence on Mr. Thornton as well--he became more understanding of his workers and less judgmental about their character. He gets to know them as people rather than cogs in his machinery. The way Margaret and Mr. Thornton refined each other was lovely.
That said, there was a lot of angst and pining away going on for a long time, which was suspenseful for a while and then started getting tiresome. I already knew how it would end (because I had watched the film adaptation) but I started getting impatient for the end to come. When it did finally come, I was glad I stuck through it and was wonderfully moved by it.
I really enjoyed reading this book and I wish I had read it sooner! Before I saw the film version, I had mistakenly associated it with John Jakes's North and South series, which is set during the American Civil War (a setting I'm not particularly fond of). Thank goodness my error in judgment was corrected! The film was outstanding and although I was worried I wouldn't like the book as much, it exceeded my expectations. This was a fantastic read and I highly recommend it to anyone who enjoys Jane Austen or the Victorian era.
Related Linkage:
Reading Challenges: Classics Challenge, TwentyEleven Challenge (TBR)