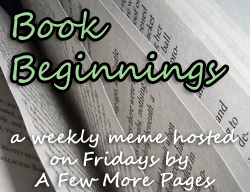 How to participate:
Share the first line (or two) of the book you are currently reading on your blog or in the comments. Include the title and the author so we know what you're reading. Then, if you would like, let us know what your first impressions were based on that first line, and let us know if you liked or did not like the sentence. The link-up will be at
A Few More Pages
every Friday and will be open for the entire week.
Thanks to
Becky at Page Turners
for starting this meme and to
Rose City Reader
for inspiring it!
My read this week was
The Baker's Wife by Erin Healy
. Here are the first two lines:
The day Audrey took a loaf of homemade rosemary-potato bread to Cora Jean Hall was the day the fog broke and made way for spring. Audrey threw open the curtains closest to the dying woman's bedside, glad for the sunshine after months of gray light.
This is a surprisingly serene and bittersweet beginning for a book that turns out to be very suspenseful (
click here for the synopsis & to read an excerpt
). It's like the calm before the storm, and when I first read it I definitely didn't expect the book to ramp up the way it did after this beginning. And thinking about that beginning after having finished the book, I like how it provides such a neat connection to certain back stories within the book.
So, what is the first line of your current read, and how did you like it? Please leave the link to your specific post, not just to the front page of your blog.
---
---