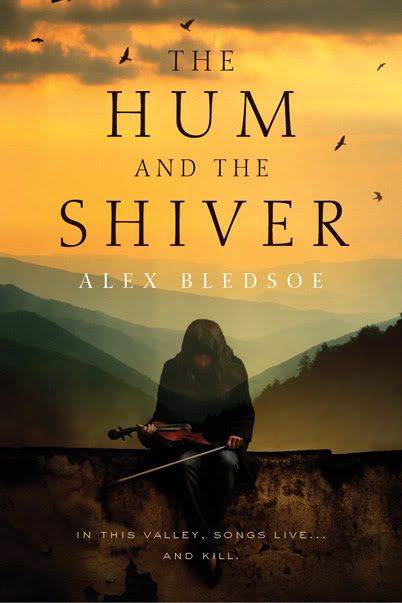 I am thrilled to be hosting an interview with Alex Bledsoe on the blog today. I gushed yesterday about how much I liked his newest book, The Hum and the Shiver, and if that didn't convince you to go out and get a copy of this book, maybe this fantastic Q&A will! Please join me in giving Alex a warm welcome!
What inspired your book, The Hum and the Shiver?
It was a conjunction of three things: Appalachian folk music, Celtic faery folklore, and the stories of the Melungeons of East Tennessee. Briefly, the Melungeons are an isolated ethnic group who legend says were already here when the first Europeans arrived in Appalachia. No one knows for sure where they came from or how they got here, although DNA evidence has gone a long way toward solving the "where" question. I thought, "what if they were a secret race of faeries hiding from history and minding their own business?" So I created my own isolated society, the Tufa.
Who are the main characters in the story?
The protagonist is Bronwyn Hyatt, a twenty-year-old Iraq War vet who was injured in combat and rescued on live TV. Now she's back home in the mountains among her people, the Tufa, confronting both her recovery and all the issues that led her to leave home in the first place. There's also a ghost waiting to talk to her, omens of death that seem to be targeting her mother, and her dangerous ex-boyfriend lurking around.

Craig Chess is a newly-graduated Methodist minister trying, in his easy-going way, to make some inroads in the Tufa community. When he meets Bronwyn, unexpected sparks fly. Don Swayback is a part-Tufa reporter who's lost enthusiasm for his job, marriage, and pretty much everything else; his assignment to get an exclusive interview with Bronwyn causes him to reconnect with his Tufa heritage.

The antagonists include Bronwyn's old boyfriend Dwayne Gitterman, a devilish old man named Rockhouse, and brutal state trooper Bob Pafford.
You grew up in the Tennessee area, how did your childhood determine the setting of the story?
Since two of the three major inspirations came from Appalachia, I couldn't imagine setting it anywhere else. The beauty, mystery and magic of the Smoky Mountain setting seemed so appropriate that I kept it, and the rhythms of Southern speech are second nature to me. And while the issues that the characters face are universal, they're expressed in a uniquely Southern way.
What special research was involved in creating the story line?
I listened to a lot of music, the real old stuff that was sung in the mountains for generations before anyone ever thought to write it down: "Shady Grove," "Barbara Allen," and so on. I also listened to the music being made in that area today, because it's a thriving tradition. I read about musicians, and how they felt about music and what it meant in their lives. I researched faery folklore and discovered that they were far from the harmless little sprites we think of today. And I thought a lot about how "family" and "religion" are defined in the South, and how they affect every aspect of life.
You describe your book genre as "gravel-road fantasy". Can you provide additional information surrounding the genre?
It's "urban fantasy" in a rural setting. In UF, the magical elements appear in the mundane world of cars, skyscrapers and crowded nightclubs. In my book the setting is still modern, but it involves tractors, small-town convenience stores and barn dances.
The main character, Browyn, is a strong, attractive heroine. Did you rely upon an actual person to develop the character and why?
Her ordeal was inspired by the experiences of Jessica Lynch at the beginning of the Gulf War. But the character herself is entirely drawn from scratch. I wanted her to be someone who had endured a lot, but never let herself be a victim; as a teenage hellraiser she'd been nicknamed "The Bronwynator," and deep down that's who she remains. Now she faces a bunch of decisions she tried to avoid, and must figure out a way to be true both to her people, and herself.
Who do you think would enjoy The Hum and the Shiver and why?
It's "urban fantasy," but in the country instead of the city. So if you can conceive of a world where Charles de Lint and Rick Bragg co-exist, I think you'll enjoy this book. Anyone who ponders what faeries would be like if they lived among us, understands the magic found in songs and music, and/or likes stories of people trying to do the right thing in a situation where "the right thing" isn't always clear, will enjoy it.
Thank you, Alex, for writing such a terrific book and for being at A Few More Pages today!
About Alex Bledsoe: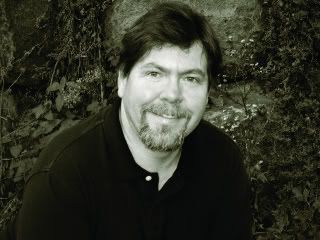 Alex Bledsoe grew up in Tennessee, and draws much of his inspiration from his homeland. He's been a reporter, editor, photographer, and door-to-door vacuum cleaner salesman. He is also the author of the Eddie LaCrosse books—
The Sword-Edged Blonde
(Tor, 2009),
Burn Me Deadly
(Tor, 2009), and
Dark Jenny
(Tor, 2011). He lives with his family in Wisconsin.
Related Linkage: