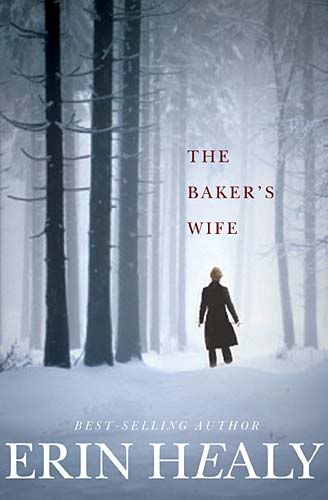 The Baker's Wife by Erin Healy
Genre:
Christian Thriller/Suspense
Pages:
352
Publication Date:
October 4, 2011
Publisher:
Thomas Nelson
Source:
I received an e-galley from the publisher for review through
NetGalley
.
Rating:
5 of 5 stars
Book Description
(from the
publisher
)
:
Before Audrey was the baker's wife, she was the pastor's wife.
Then a scandalous lie cost her husband a pastoral career. Now the two work side-by-side running a bakery, serving coffee, and baking fresh bread. But the hurt still pulls at Audrey.
Driving early one morning to the bakery, Audrey's car strikes something—or someone—at a fog-shrouded intersection. She finds a motor scooter belonging to a local teacher. Blood is everywhere, but there's no trace of a body.
Both the scooter and the blood belong to detective Jack Mansfield's wife, and he's certain that Audrey is behind Julie's disappearance.
But the case dead-ends and the detective spirals into madness. When he takes her family and some patrons hostage at the bakery, Audrey is left with a soul-damaged ex-con and a cynical teen to solve the mystery. And she'll never manage that unless she taps into something she would rather leave behind—her excruciating ability to feel other's pain.
✥✥✥✥✥✥✥✥✥✥
When I first started reading The Baker's Wife, I wasn't sure I would like it. Audrey Bofinger has a gift of compassion that borders on the supernatural, and I tend to have a hard time with supernatural in Christian fiction if it's too much or unbelievable. Because of that I was nervous about this book at first, but ultimately I was able to accept it as an interesting part of Audrey's character because it didn't overwhelm the story. I think it also has connections with the real world--we may not be able to physically feel the emotional pain of others like Audrey does, but at times many of us are hesitant to interact with people on an emotional level for the same reason Audrey was sometimes hesitant: fear of feeling their pain.
The premise of the book is that Audrey, while driving through the thick tule fog of California's Central Valley, apparently hit a scooter with her car and badly injured the rider. But the rider has disappeared, leaving a huge pool of blood behind. As the hours pass, they learn that the scooter belongs to Julie Mansfield, a high school teacher who is now missing. What happened to Julie? How could a woman who is apparently critically injured just disappear? The twist of the case is that Julie's husband, Jack, had been instrumental in having Audrey's husband fired from his job as the pastor of their local church. And Jack, being a police detective, becomes convinced that Julie's disappearance wasn't an accident but was part of a plot for revenge. Throughout the story the reader is pulled back and forth trying to ascertain where the truth lies.
There are a number of thought-provoking issues that are approached in this novel, including broken relationships, abortion, revenge, forgiveness, and legalism. Audrey and her family seem like they are being unfairly targeted at times, but even though they are sympathetic characters they are not perfect and have flaws as well. I liked that the "bad" guy of the story wasn't a satanist or an atheist (my Christian fiction pet peeve), but a professed Christian who had become fanatical in his attempts to order and control his life in legalistic ways, demanding perfection from everyone around him. I liked it because it seemed more likely - I am more likely to have problems in my personal life with Christians behaving badly than with satanists or atheists.
The Bofingers' bakery was such a great setting for much of the action. I loved that they were able to use their bakery as a mission field. They may have been forced to leave their church, but they were able to use their gifts in a new way, combined with their skills at baking. The bakery also provided an interesting point of connection with Diane, who turned out to be one of my favorite characters as she progressed from someone haunted by her past into someone who understood and experienced redemption and forgiveness.
The Baker's Wife is a fabulously thrilling novel with unexpected twists and turns and non-stop suspense. The mystery keeps you turning the pages until the wee hours of the morning, especially when the investigation escalates into a standoff. I definitely recommend this highly suspenseful thriller, and I think the faith elements aren't too heavy-handed to scare off more casual readers of Christian fiction.
Related Linkage:
Reading Challenges: Mystery & Suspense Challenge