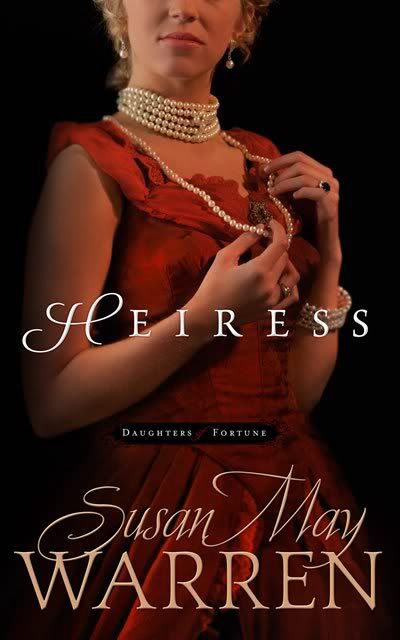 Heiress by Susan May Warren
(Daughters of Fortune #1)
Genre:
Christian Historical Fiction/Romance
Pages:
363
Publication Date:
July 2011
Publisher:
Summerside Press
Source:
I received a free review copy of this book to participate in a
LitFuse Book Blog Tour
.
Rating:
4.5 of 5 stars
Book Description
(from the
publisher
)
:
They can buy anything they want— fame, power, beauty, even loyalty. But they can't buy love.
The beautiful and wealthy heiress daughters of August Price can buy everything their hearts desire. But what if their desire is to be loved, without an enormous price tag attached? When one sister betrays another for the sake of love, will she find happiness? And what happens when the other sets out across the still untamed frontier to find it—will she discover she's left it behind in the glamorous world of the New York gilded society? What price will each woman pay for being an heiress?
Set in the opulent world of the Gilded Age, two women discover that being an heiress just might cost them everything they love.
❦❦❦❦❦❦❦❦
Susan May Warren wowed me earlier this year with her contemporary novel
My Foolish Heart
. It was my first time reading any of her works, and since historical fiction is one of my favorite genres, I was interested to try her newest historical novel,
Heiress.
It was a really good choice -
Heiress
is an exciting and complex historical novel that makes the Gilded Age and the early 1900s in America come alive!
Heiress
follows two sisters, the daughters of an affluent newspaper publisher, who take very different paths in life. The youngest, Jinx, marries well (the man her older sister refused to marry) and gains wealth and status but also a loveless and unhappy marriage. The older sister, Esme, leaves her wealthy existence to make her own life on the frontier as the owner of a small-town newspaper, determined to prove to herself and to her father that she has what it takes to succeed in the newspaper business and in life. Each sister lives her life experiencing love and heartbreaking loss. When the two are brought together again by scandal and a murder mystery, they find understanding and support in each other that they hadn't expected. Each also gets a second chance at love.
There was so much more to this story than I expected! In
Heiress,
Susan May Warren has created complex characters with messy lives, who face struggles, failures, and still pick themselves back up to try again. This isn't a saccharin-sweet romance novel where the heroine overcomes a few simple problems to be with the man of her dreams. These women face very difficult obstacles and don't always succeed with flying colors, something I think anyone can identify with in the real world. I also love that none of the characters were too perfect--they could be despicable and self-centered at times as well as kind and giving, and that made them so much more interesting.
The settings were another big bonus for me. It was interesting to experience high society in Gilded Age New York through the eyes of Esme and Jinx because each of them saw it so differently! Esme's experiences out West also really caught my interest, partly because I just got done teaching a unit on the mining industries of the West in the late 1800s. The topic was fresh in my mind and this book's portrayal of it was exciting and gritty. The author really did an excellent job at weaving in historical details about clothing styles, social activities, the newspaper industry, mining operations, and more. I always appreciate when historical fiction authors take the history part seriously. She succeeded in making history come alive for me.
This was a fantastic work of historical fiction from an author who has wowed me yet again. I highly recommend this book to fans of Christian historical fiction and historical romance, and I cannot wait to read the next book in the series!
Related Linkage:
Reading Challenges: 1st in a Series Challenge, 2nds Challenge, Historical Fiction Challenge