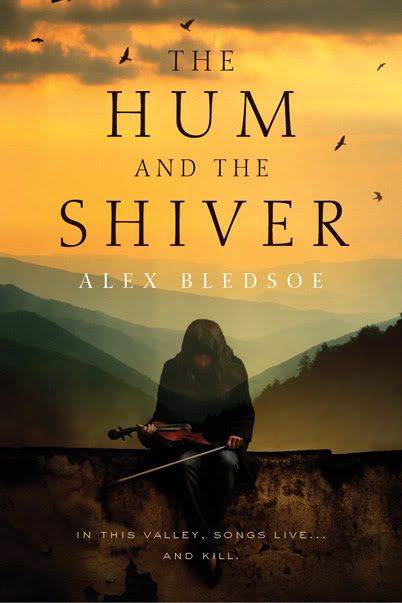 The Hum and the Shiver by Alex Bledsoe
Genre:
Contemporary Fantasy
Pages:
352
Publication Date:
September 27, 2011
Publisher:
Tor Books
Source:
I received a free e-galley of this book for review for a blog tour organized by
PR by the Book
.
Rating:
5 of 5 stars
Book Description
(from the
publisher
)
:
No one knows where the Tufa came from, or how they ended up in the Smoky Mountains of East Tennessee, yet when the first Europeans arrived, they were already there. Dark-haired, enigmatic, and suspicious of outsiders, the Tufa live quiet lives in the hills and valleys of Cloud County. While their origins may be lost to history, there are clues in their music—hints of their true nature buried in the songs they have passed down for generations.


Private Bronwyn Hyatt returns from Iraq wounded in body and in spirit, only to face the very things that drove her away in the first place: her family, her obligations to the Tufa, and her dangerous ex-boyfriend. But more trouble lurks in the mountains and hollows of her childhood home. Cryptic omens warn of impending tragedy, and a restless "haint" lurks nearby, waiting to reveal Bronwyn's darkest secrets. Worst of all, Bronwyn has lost touch with the music that was once a vital part of her identity.

With death stalking her family, Bronwyn will need to summon the strength to take her place among the true Tufa and once again fly on the night winds. . . .
❦❦❦❦❦❦❦❦
Alex Bledsoe has written an outstanding fantasy novel set in a contemporary rural American community. Drawing on the mysterious origins of the
Melungeon
people in Appalachia, Bledsoe creates a similar group of people, known as the Tufa. The Tufa are a striking community of people, and hints are made that there is more to them than meets the eye. Their story slowly unfolds over the course of the novel, wonderfully incorporating existing mythology to give the story authentic roots in the past.
Even though this is a fantasy novel, it has a distinctly contemporary feeling, which was brought to the story through main character Bronwyn's veteran status. She was injured in Iraq and she returns home to recover from her wounds. In the process she is forced to grow up and heal her family and relationships as well as her body. Cloud County in East Tennessee is a rural area that hasn't been that affected by the march of time, but the story's connection to current events feels fresh in the midst of a community that has been slow to change. It also forges an interesting connection between the here-and-now and a people with ancient roots.
Sometimes the fantasy elements in a novel can overwhelm the story and the relationships within it. Not so with The Hum and the Shiver. One of my favorite things about this book is that the characters felt genuine, regardless of their mysterious history and extraordinary musical abilities. The characters' feelings were explored in a way that resonated with me. Bronwyn was rebellious and wild in her teenage years, and her return home forces her to reexamine that aspect of her past and to deal with it in a way that allows her to grow up and move on. I also really liked several of the other characters in the story--they were fleshed-out well and added considerable interest to the story. Two of my favorites were Craig, a Methodist minister struggling to establish a church in Tufa country and Don, a newspaper reporter assigned to interview Bronwyn that ends up learning much more about his own Tufa ancestry than he ever imagined.
The Hum and the Shiver is a fantastic read, with contemporary issues and witty characters, with a good dose of mystery and fantasy mixed in. I like the way that an otherworldly feeling was tied in with the mysterious Tufa people (I admit I went Google-searching to learn more about the group that they end up being descended from--I won't say more because I don't want to spoil the mystery). I liked the way that music featured so prominently in the lives of the Tufa, and the rural Cloud County setting resonated with me, a small-town girl. I definitely recommend this to fans of fantasy in contemporary settings and to readers who enjoy seeing ancient mythology placed in the present-day.
Related Linkage:
Reading Challenges: Speculative Fiction Challenge