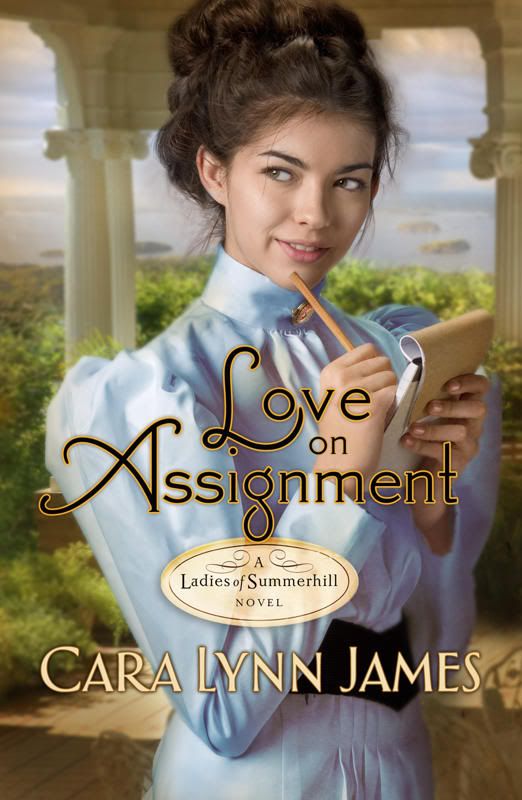 Love on Assignment by Cara Lynn James
(Ladies of Summerhill #2)
Genre:
Christian Historical Romance
Pages:
336
Publication Date:
January 2011
Publisher:
Thomas Nelson
Source:
Crazy Book Tours
Rating:
3 of 5 stars
Book Description
(from the
publisher
)
:
The chance to break the big story is all Charlotte needs to secure her future. But when the truth comes out--it may cost her the love of her life.
Newport, Rhode Island, in 1900--a glamorous resort town where the rich and famous go to see and be seen.
Charlotte Hale isn't part of that world. She's a working girl, a secretary for a local newspaper, who dreams of becoming a real reporter. When her boss offers her an assignment, she jumps at the opportunity. She'll go undercover as a governess to invesitgate a scandal about her new employer, Daniel Wilmont, a young widowed professor of religion who writes a controversial column in a rival newspaper.
Charlotte's qualms about misrepresenting herself to Daniel soon morph into a deeper quandry. How can she get the goods on a man who turns out ot be so honorable? How can she plot the downfall of a family that has inspired her to rediscover her faith? And how can she protect the man she now loves from a scheme she's been part of since the beginning?
✥✥✥✥✥✥✥✥✥
Love on Assignment is a Christian historical romance novel about Charlotte Hale, an aspiring reporter who works as a secretary at a newspaper office. She gets a chance to prove herself as a reporter (and make the higher income she needs to take care of her aunt and sister) when her employer asks her to go undercover to investigate a possible scandal about a reporter at a rival newspaper. Daniel Wilmont is that reporter, who happens to be young, widowed, and a professor of religion. He is looking for a new governness while his mother recuperates from some health problems. He hires Charlotte for the position and as she gets to know him better she realizes that the rumors of scandal are untrue and that Daniel is an honorable guy. He also seems to be falling in love with Charlotte. How does she break the news to him that she isn't who she claimed to be? And how does she prevent her editor boss from manufacturing a scandal just to drag the man she loves through the mud?

What drew me to pick up this book was the main character. Charlotte sounded like my kind of girl--strong, spunky, looking to make more of her life than what the people around her expected. Unfortunately, I had a hard time really connecting with her. The whole dishonesty aspect and her constant agonizing over it was off-putting after a while. And then there was Daniel, whose job alone caught my interest (college professors are cool!) but he turned out to be a bust as well. What drove me crazy about him was that he was so preoccupied with telling Charlotte that he could forgive her for anything when she was trying to tell him her secret and ask forgiveness, but he kept cutting her off and wouldn't let her finish. When the truth finally does come to light, he gets really upset with Charlotte (the opposite of his previous claims). He was a nice guy and all (which was one of the reasons that he was put into a position that looked scandalous), and he does redeem himself in the end, but I didn't really like him.

Even though the characters just didn't do it for me in this story, I do think this would be a great book for book clubs and reading groups. It raises thought-provoking questions about honesty and choices that I think would be excellent for discussion. Readers should be aware that this book is a Christian romance and it has faith aspects to it (Charlotte becomes a Christian through her conversations with Daniel). It was a quick read that was enjoyable enough but not particularly moving or memorable.
Related Linkage:
Reading Challenges: Historical Fiction Challenge