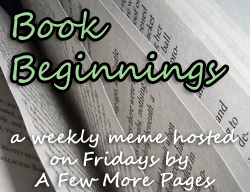 How to participate:
There's nothing quite like the anticipation that comes from cracking open a book for the first time! Share the first line (or two) of the book you are currently reading on your blog or in the comments. Include the title and the author so we know what you're reading. Then, if you would like, let us know what your first impressions were based on that first line, and let us know if you liked or did not like the sentence. The link-up will be at
A Few More Pages
every Friday and will be open for the entire week.
Thanks to
Becky at Page Turners
for starting this meme and to
Rose City Reader
for inspiring it!
My reading is going pretty slowly right now because I am grading homework and essays this week for my college classes, so I'll share the first lines of one of my favorite books,
A River Runs Through It by Norman Maclean
:
In our family, there was no clear line between religion and fly fishing. We lived at the junction of the great trout rivers in Western Montana, and our father was a Presbyterian minister and a fly fisherman who tied his own flies and taught others. He told us about Christ's apostles being fishermen, and we were left to assume, as my brother and I did, that all first-class fishermen on the Sea of Galilee were fly fishermen and that John, the favorite, was a dry-fly fisherman.
Maclean has such a fun sense of humor in his writing, and even though this book talks a lot about fly fishing, it is so much more than that. It is a story about family, and the writing is poignant and moving. Part of my love of this book probably stems from the fact that my father is a fly fisherman, taught by his father, and he used to take my brother and me fly fishing when we were kids. The other part of my love of this book is tied up in the relationships between the brothers and between the grown-up sons and their aging parents. It is a wonderful and beautifully-written novella, and my copy has a lot of sticky tabs in it marking all of
my favorite passages
.
So, what is the first line of your current read, and how did you like it? Please leave the link to your specific post, not just to the front page of your blog.
---
---