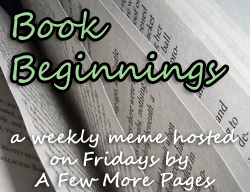 There's nothing quite like the anticipation that comes from cracking open a book for the first time!
How to participate:
Share the first line (or two) of the book you are currently reading on your blog or in the comments. Include the title and the author so we know what you're reading. Then, if you would like, let us know what your first impressions were based on that first line, and let us know if you liked or did not like the sentence. The link-up will be at
A Few More Pages
every Friday and will be open for the entire week.
Thanks to
Becky at Page Turners
for starting this meme and to
Rose City Reader
for inspiring it!
This week has been busy like the last couple of weeks have been. I haven't really finished anything in a while. Here's the beginning of a book I started a while ago and have been meaning to finish,
Veiled Rose by Anne Elisabeth Stengl
:
They said a monster lived in the mountains.
That is a promising beginning! It's a little bit creepy, a little bit mysterious. What role will this monster play in the story? I'm looking forward to finding some time to sit down and really immerse myself in this story.
So, what is the first line of your current read, and how did you like it? Please leave the link to your specific post, not just to the front page of your blog.
---
---