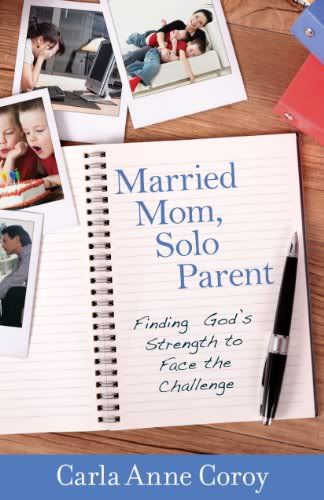 Married Mom, Solo Parent: Finding God's Strength to Face the Challenge by Carla Anne Coroy
Genre:
Christian Non-Fiction
Pages:
272
Publication Date:
October 2011
Publisher:
Kregel Publications
Source:
I received a free review copy to participate in
this LitFuse book tour
.
Rating:
5 of 5 stars
Book Description
(from the
publisher
)
:
Bookstore shelves are full of parenting resources for moms who are newly divorced or widowed. But where do moms turn if they feel like a single parent--but they're not? Whether he is away on business, deployed in the military, or obsessing over a computer game, dad may not be available for a variety of reasons. Moms who parent in this situation still need help and don't necessarily relate to the advice given in divorce recovery or single parenting resources.
Married Mom, Solo Parent is a common-sense, down-to-earth look at the struggles wives and mothers face when their husband is not actively involved in family life. Writing from her own experience as a married single mom, Carla Anne Coroy will help wives and mothers sort through their questions, such as: Can I do this alone? How do I raise kids to honor their father? How do I give my children a healthy perspective of marriage if they never see one in action? With practical suggestions, anecdotes, and biblical teaching, this book will encourage moms to see their position as a high calling, to find healing for their worries and frustrations, and to tap into God's strength for help in facing the daily challenge of being a married mom, solo parent.
❦❦❦❦❦❦❦
This is the kind of book that you only really pick up if it describes you. I am a married mom, who often feels like a solo parent. I've commented on this before with friends and family, so when I saw this book I knew I just HAD to read it. My husband is a firefighter who works 48-hour shifts. I spend two full days and nights alone at home with my kids, followed by two full days and nights with my husband here. Sometimes he works overtime and works longer than 48 hours - 6 days on duty isn't all that uncommon and if he gets sent out of town during the busy summer fire season it could be even longer. But I digress. This review shouldn't be all about me, though I can tell already it's going to be hard for me to write this review without a lot of personal anecdotes. I hope you can bear with me.

Being a married mom who spends so much solo time with her kids can feel like a heavy responsibility. It can feel overwhelming and exhausting to be the one person that everyone counts on all of the time. Carla Anne Coroy knows what this is like. She's lived the life of a married mom-solo parent, and in this book she addresses a lot of the issues that moms like me deal with on a regular basis. One of the best things about this book is that I felt less alone when I was reading it. It connected me back to the fact that a lot of moms go through this, and that my situation isn't that unique. Keeping that in the back of my mind during the day helps me to feel less sorry for myself and to be thankful for my blessings.

Another great thing about this book is that it provides a lot of practical advice as well as spiritual advice. Some of my favorite practical advice included: cut back on kids' activities to cut back on stress, set aside time to spend on yourself and with supportive friends, and train your kids to contribute to the family by giving them chores from an early age. There is a great chore list on pages 134-136 with age-appropriate suggestions. In the craziness of my daily existence (and my perfectionist tendencies), I will often try to do everything around the house myself. This book reminded me that not only will handing off some of the chores to my kids help the household to run smoother, it will give them skills that they need in adulthood. They need to learn this stuff so they can take care of themselves when they grow up. And the earlier they start taking on responsibilities at home, the less they will resist it.

Spiritually, this book was a goldmine for me. Most important, it reminded me that I need to lean more on God for guidance and support. I don't have to feel like the weight of the world is on my shoulders, God can help me to carry that load. If I lean on God's strength, I'm not really alone. It also made me look at a lot of my scattered and unorganized thoughts and feelings about being a solo parent and face them. It gave me something more constructive to do than feeling resentful. For example, I need to deal with my anger so I can model for my kids "how a healthy adult should live" (57). I need to put myself more in my husband's shoes and try to understand what it must be like for him to be walking in on a household that seems to run just fine without him when he's gone. I need to be less harsh with him when he doesn't know our schedules and rules, because how can he know when he isn't here all of the time? I think I tend to expect perfection out of him, which is unfair. I also need to remember to honor him by helping him to not feel like an outsider--I need to think of ways to help him feel like a part of the family both when he is at work and when he is at home. And I need to pray more--for my husband, for my kids, and for myself.

As you can tell by my long-winded review, this book gave me a lot to think about. I've got a lot of sticky notes marking important passages that I plan to go back to on a regular basis. I am really glad I read this book. It has helped me to look at my husband from a new perspective and has forced me to think about making my actions and my attitudes good examples for my kids. I want them to be able to look at our family as something they want to emulate, not reject. The best way for me to do that is to lean on God's strength, because when I depend too much on my imperfect and weak self, it doesn't go that well. I highly recommend this book for any married mom who finds herself struggling to do the solo parenting gig for whatever reason. You'll find a lot of great support and advice within these pages.
Related Linkage: