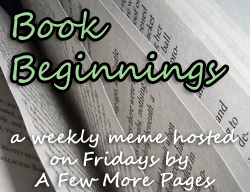 How to participate:
Share the first line (or two) of the book you are currently reading on your blog or in the comments. Include the title and the author so we know what you're reading. Then, if you would like, let us know what your first impressions were based on that first line, and let us know if you liked or did not like the sentence. The link-up will be at
A Few More Pages
every Friday and will be open for the entire week.
Thanks to
Becky at Page Turners
for starting this meme and to
Rose City Reader
for inspiring it!
This weekend I'll be reading
The Hypnotist
by M.J. Rose. Here are the first few lines:
Time played tricks on him whenever he stood in front of the easel. Hypnotized by the rhythm of the brush on the canvas, by one color merging into another, the two shades creating a third, the third melting into a fourth, he was lulled into a state of single-minded consciousness focused only on the image emerging.
I like the way the title is worked into this beginning, even though I know there will be an actual hypnotist later on in the novel (just from reading the jacket blurb). I was also struck by how the character was drawn in by the act of painting, and that it was reminiscent to the way I sometimes get pulled into the internet or into a book. Interesting beginning to what will hopefully be an interesting book!
What is the first line of your current read, and how did you like it? Please leave the link to your specific post, not just to the front page of your blog.
---
---