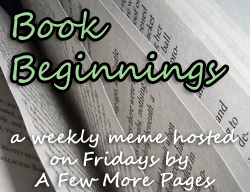 How to participate:
Share the first line (or two) of the book you are currently reading on your blog or in the comments. Include the title and the author so we know what you're reading. Then, if you would like, let us know what your first impressions were based on that first line, and let us know if you liked or did not like the sentence. The link-up will be at
A Few More Pages
every Friday and will be open for the entire week.
Thanks to
Becky at Page Turners
for starting this meme and to
Rose City Reader
for inspiring it!

Eeek! I was so busy with Thanksgiving dinner and Black Friday shopping that I forgot to post Book Beginnings on Thursday evening! Sorry about that!
I'll share the beginning lines of
the book I'm giving away this week, Anthropology of an American Girl by Hilary Thayer Hamann
:
Kate turned to check the darkening clouds. The white arc of her throat looked long like the neck of a preening swan.
What do you think? Personally, I like the imagery of these first lines.
What is the first line of your current read, and how did you like it? Please leave the link to your specific post, not just to the front page of your blog.
---
---