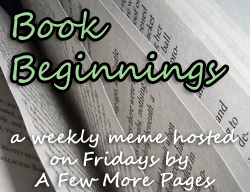 There's nothing quite like the anticipation that comes from cracking open a book for the first time!
How to participate:
Share the first line (or two) of the book you are currently reading on your blog or in the comments. Include the title and the author so we know what you're reading. Then, if you would like, let us know what your first impressions were based on that first line, and let us know if you liked or did not like the sentence. The link-up will be at
A Few More Pages
every Friday and will be open for the entire week.
Thanks to
Becky at Page Turners
for starting this meme and to
Rose City Reader
for inspiring it!
The last few weeks in my world have been very busy at work and very slow on the reading front. I haven't really started anything new, so I'll share the first line of a book I read earlier this year (but haven't reviewed yet). It is
Number the Stars by Lois Lowry
:
"I'll race you to the corner, Ellen!" Annemarie adjusted the thick leather pack on her back so that her schoolbooks balanced evenly. "Ready?" She looked at her best friend.
I like this beginning. It makes me nostalgic for my childhood days when I would race my friends around the school grounds. The first lines helped me connect with the characters right from the start.
What is the first line of your current read, and how did you like it? Please leave the link to your specific post, not just to the front page of your blog.
---
---