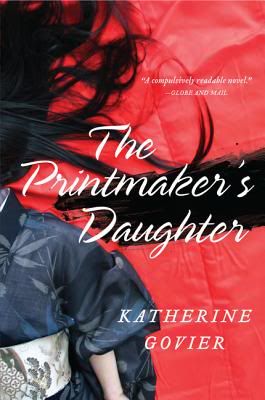 The Printmaker's Daughter by Katherine Govier
Genre:
Historical Fiction
Pages:
512
Publication Date:
November 2011
Publisher:
Harper Perennial
Source:
A paperback copy was provided to me by the publisher to participate in
this TLC Book Tour
.
Rating:
5 of 5 stars
Book Description
(from the
publisher
)
:
Recounting the story of her life, Oei plunges us into the colorful world of nineteenth-century Edo, in which courtesans rub shoulders with poets, warriors consort with actors, and the arts flourish in an unprecedented moment of creative upheaval. Oei and Hokusai live among writers, novelists, tattoo artists, and prostitutes, evading the spies of the repressive shogunate as they work on Hokusai's countless paintings and prints. Wielding her brush, rejecting domesticity in favor of dedication to the arts, Oei defies all expectations of womanhood—all but one. A dutiful daughter to the last, she will obey the will of her eccentric father, the man who created her and who, ultimately, will rob her of her place in history.
Vivid, daring, and unforgettable, The Printmaker's Daughter shines fresh light on art, loyalty, and the tender and indelible bond between a father and daughter.
❦❦❦❦❦❦❦❦❦❦
The Printmaker's Daughter
is a vivid portrayal of 1800s Japan, told through the eyes of an unusual woman. Oei was an artist, taught by her father Hokusai, who was one of Japan's most famous artists. She was also his favored child, born when he was 40 years old, and her talents and personality made her unlike most Japanese women (this idea is raised throughout the novel). She learned complicated and conflicting lessons under Hokusai's roof. On the one hand, she honed her skills and focused on her art while disdaining the idea that she should perform the more traditional duties expected of women (like cooking and sewing). And yet she was a dutiful and loyal daughter, making sure that her father was fed and his bills were paid, tutoring his students when he was too busy following his own whims, painting under his name, and caring for him in his old age. At various times she resents him, wishing she could go out and "make a living as one brush," but at the same time she feared what she would do and who she would be without him.
I was caught off-guard by how well this book sucked me into the story. Although Hokusai had fame, his family was by no means rich. The government at the time was repressive and censored the arts throughout his lifetime, making it hard for him to make a living. He also tended to imagine himself above the more trivial matters of managing his finances (no wonder his daughter adopted a similar attitude about women's traditional duties) and his livelihood was threatened by those who imitated his work under his name. So Hokusai and his family lived a somewhat ordinary lower-class life, though he did surround himself with other artists at times. They lived among courtesans and painted scenes from ordinary life, which offered an interesting peek into the pleasure district and peasant life.
While I have little background in Japanese history of this time period, the book strikes me as well-researched and beautifully detailed. I was especially enthralled by the author's Afterword, which is a 25-page essay on the historical basis of the novel. Oei is an actual historical figure, but a lot of her life and work is subject to speculation. It is unknown how much of the work attributed to Hokusai was actually done or aided by Oei. But as the author points out, there are various scholars and art collectors who have suspicions and theories based on historical accounts and analysis of the art. It is a fascinating historical question, but one that so far has been mostly limited to speculation--which I think forms an excellent basis for historical fiction.
The novel covers a rather long period of time and so in places it jumps several years within a few pages. I sometimes find large jumps in time like that to be bothersome, but for some reason I wasn't bothered by that in this case. A couple of other reviews I've seen of this book have commented that they thought the book dragged in places, but I never felt that way. I was kept fascinated and immersed in Oei's story. I imagine part of it was the writing. Govier tells the story in first-person through Oei's eyes, and her prose is often poetic and introspective. I marked many passages in this book with sticky notes so I could return to them again.
As I neared the end of this book, I found myself wrapped up in Oei and Hokusai's lives and dying to explore some of the artwork mentioned within the pages. The
author's website
provides several examples of both Hokusai's and Oei's work. The one image I was familiar with was "
The Great Wave
," and now I am even more drawn to seek out more of these artists' images.
Oei's story reminded me a bit of a couple of other historical fiction novels I've read about female artists:
The Creation of Eve by Lyn Cullen
and
The Passion of Artemisia
by Susan Vreeland. In both cases I think the artists are a bit more well-known than Oei, but I felt the same kind of fascination in observing the ways they challenged gender and cultural norms of their times. I think what struck me the most about Oei's story, though, was that even though I am a 21st century Westerner, I could identify with some of her internal struggles and found her to be a sympathetic and sparkling character. And along with a desire to seek out more of Hokusai and Oei's artwork, I was also left with an interest in learning more about the history of Japan in the 1800s, especially since the book takes place at the time of the opening of Japan to the West and the years leading up to it.
If you are at all interested in historical fiction about artists or set in Japan (or both!), I highly recommend this title to you. I think it will probably make my list of favorite reads of 2011. I'm really glad I made the time to read this one.
(I should mention that there are some intimate scenes in this book. They weren't especially racy or overly sensual for my sensibilities, but I thought I'd throw that out there for readers who don't want to be surprised by that kind of thing.)
Related Linkage:
Reading Challenges: Historical Fiction Challenge, POC Reading Challenge, TwentyEleven Challenge (With a Twist)