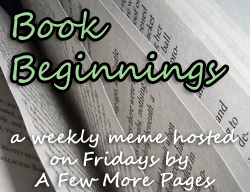 How to participate:
Share the first line (or two) of the book you are currently reading on your blog or in the comments. Include the title and the author so we know what you're reading. Then, if you would like, let us know what your first impressions were based on that first line, and let us know if you liked or did not like the sentence. The link-up will be at
A Few More Pages
every Friday and will be open for the entire week.
Thanks to
Becky at Page Turners
for starting this meme and to
Rose City Reader
for inspiring it!
This week I'm reading
Flesh and Blood So Cheap: The Triangle Fire and Its Legacy by Albert Marrin
. I requested it on NetGalley after I saw it was a National Book Award finalist. Here are the first lines from the Prelude:
New York City, Saturday, March 25, 1911. One of those sparkling early-spring afternoons New Yorkers so enjoy after a cold, dreary winter. Under the cloudless blue sky, strong, bracing gusts of wind blew across Manhattan Island from the East River. The air smelled fresh and clean, and it felt good to be alive.
This is a pretty descriptive beginning, but I guess I was expecting something different--this is a very calm and unassuming beginning for a book about the Triangle Shirtwaist fire. I really don't like the sentence fragments in the beginning. I know it's a stylistic choice, but it's not one I'm generally in favor of.
What is the first line of your current read, and how did you like it? Please leave the link to your specific post, not just to the front page of your blog.
---
---