It is the holiday season, and I wanted to give away one of my favorite Christmas stories (which also happens to be a classic):
A Christmas Carol
by Charles Dickens. I read it for the first time two Christmases ago and
loved it
, so when I saw this nice little edition on display at Barnes and Noble, I bought a new copy to give away. Here's what it looks like: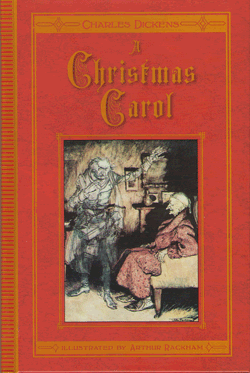 The book has illustrations by
Arthur Rackham
and the edges of the pages are rough-cut, giving it a nice vintage feeling.
"Marley's Ghost"
This is going to be a fairly quick giveaway so I can get this in the mail before Christmas (no promises it will reach you before Christmas, though--the USPS is pretty swamped this time of the year).
Just enter your information in the Rafflecopter entry form below. This is open internationally, and ends on December 16. Merry Christmas!