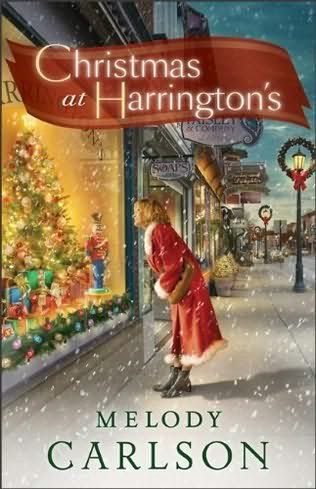 Christmas at Harrington's by Melody Carlson
Genre:
Christian Fiction
Pages:
176
Publication Date:
October 2010
Publisher:
Revell
Source:
I purchased the
e-book from Barnes and Noble
.
Rating:
4 of 5 stars
Book Description
(from the
publisher
)
:
Christmas is approaching, and Lena Markham finds herself penniless, friendless, and nearly hopeless. She is trying to restart her life, but job opportunities are practically nonexistent. When a secondhand red coat unexpectedly lands her a job as Mrs. Santa at a department store, Lena finally thinks her luck is changing. But can she keep her past a secret?
Reading Christmas at Harrington's, a story full of redemption and true holiday spirit, will be your newest Christmas tradition.
Christmas at Harrington's
was an unexpectedly good holiday read this year. I like to read at least one Christmas story in December, and I downloaded the ebook version of this book from Barnes and Noble on a whim. I started reading it before bed one night, intending to read a few chapters and go to sleep, but found myself reading late into the night until I was finished with it. So, it's a quick read, and one that kept me interested throughout and left me smiling when I finished the last page.
The characters in this story seemed timely and realistic, especially in our current tough economic times. There are businesses struggling to survive and people living in poverty and looking for work. But despite these aspects (which have the possibility of making a Christmas book into a real downer), there is a thread of hope throughout the story. The main character, Lena, has a story that makes her unusual in my experience. She is an older woman who has just been released from prison and is looking to start over in a new town. Her experiences in prison and the events that put her in that place could have left her jaded and down, but despite her wavering faith in God, she still remains a kind and giving person. As she finds herself and seeks to make a new life, she faces difficulties as her history comes back to haunt her. But she also blooms into a person that people respect and even love.
There is a lot to like about this little story, but what stood out to me especially was the book's message.
Christmas at Harrington's
was more sophisticated than I expected. I'm used to somewhat sappy Christmas stories that litter cable television this time of year, where people find true love and happiness in the season. But this story had a good message about forgiveness and the difficulties that people face when life hasn't gone the way they expected. It puts a human face on the struggles of people who are trying to rebuild their lives after serving time in prison. It speaks to the prejudices that many people have about someone with a criminal record.
My only complaint was that Lena was almost too good to be true, even with a past criminal conviction. She was always so willing to help other people--and truly selfless people like that seem so rare these days. It helped that Lena questioned her faith--it made her seem more realistic--but I knew she would return to it because that's just how she was. But in complaining about this, I also worry that I've become too jaded by our current world to not trust someone who really lives the maxim that it's better to give than to receive. In the end, although Lena's goodness bothered me a little at the back of my mind, I ultimately enjoyed this book and would definitely recommend it to anyone looking for a heartwarming and hopeful book to read during the Christmas season.
Related Linkage:
Reading Challenges: Twenty Eleven Challenge (Will-Power?)