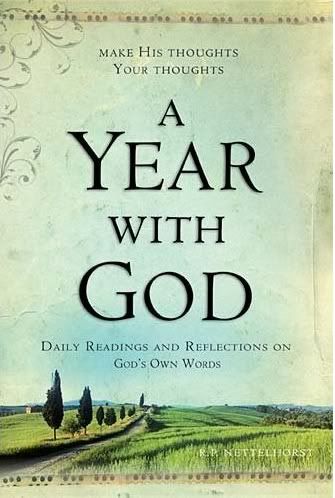 A Year With God: Daily Readings and Reflections on God's Own Words by R.P. Nettelhorst
Genre:
Christian Devotional
Pages:
400
Publication Date:
November 2010
Publisher:
Thomas Nelson
Source:
I received a free review copy through the
BookSneeze book review bloggers program
.
Rating:
4 of 5 stars
Book Description
(from the back cover)
:
Are there any words more powerful than God's? Through his words, the world came into creation and all life into being. God spoke to his first people, Adam and Eve, and he spoke to Noah and Abraham, to the kings of Judah and Israel, and to the prophets.
And he speaks to you today.
God's words are real, and they are full of his love, wisdom, and direction. A Year With God is a 365-day revelation of God's divine character through his actual words, along with reflections and insights to increase your understanding. You'll discover the context of God's words spoken in the Old Testament--and what they mean for you and your life.
Arranged by topic, A Year With God highlights God's words to his people. In reading what God actually said, you can know what really matters to him and to you. It's a pure, simple, and lasting way to connect your heart with God's and become more like him every day.
~~~~~~~~~~~~~~~~~~~~~~~~
The beginning of a new year gives us a chance to set new goals for the coming year, and one of my goals has been to spend more time reading and thinking about God's Word each day. I have a variety of devotionals on my bookshelves, but they often seem somewhat shallow or they focus on very small pieces of scripture so that you don't get a feeling for the context of the passage.
This devotional is different, however, from devotionals I've tried to read through before. A Year With God has 365 page-long devotionals dedicated to reading God's Word and helping the reader to apply it to their lives. The first thing that stood out to me about this devotional was that the scripture readings are prominent--taking up a third to a half of the page, with the rest of the page dedicated to Nettelhorst's discussion of the passage. I like the set-up because it makes me feel like God's Word is being given priority here, rather than the author's opinions. The author's discussion of the scripture each day were also enlightening. I was surprised to be inspired to take notes from these short devotional readings each day. Nettelhorst's comments are to-the-point and useful for my daily walk with God. Clearly written and informative, I was able to avoid the boredom that I tend to associate with devotionals. Finally, the book is organized thematically, so you can easily find a daily reading on a topic that speaks most to your individual experience.
So, as you can tell, I liked A Year With God. If you've found yourself doing less daily Bible reading recently and one of your New Year's Resolutions this year is to spend more time in God's Word, this might be a good choice for you. If you are pressed for time or find long daily readings to be intimidating, the one-page daily entries are short enough and informative enough to keep your interest as well as feed your need to connect with God's Word daily.
Related Linkage: