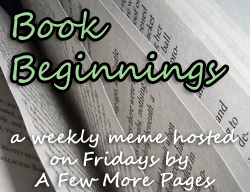 How to participate:
Share the first line (or two) of the book you are currently reading on your blog or in the comments. Include the title and the author so we know what you're reading. Then, if you would like, let us know what your first impressions were based on that first line, and let us know if you liked or did not like the sentence. The link-up will be at
A Few More Pages
every Friday and will be open for the entire week.
Thanks to
Becky at Page Turners
for starting this meme and to
Rose City Reader
for inspiring it!
I've got this book up for a giveaway right now (
click here to enter!
). Here are the first lines of
The Temple Mount Code
by Charles Brokaw:
"You've had quite a night, haven't you, Professor Lourds?"
Buckled into the passenger seat of the Bell helicopter, Thomas Lourds smiled. He was pleasantly tipsy and looking forward to his tent, and the cot within it even more.
The setting is what really draws my attention in this beginning. He's on a helicopter, he's drunk, and he's on his way to a tent where he will sleep in a cot. Definitely not your typical setting.
So how does your current read begin, and what are your thoughts so far? Please leave the link to your specific post, not just to the front page of your blog.
---
---