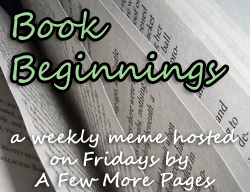 How to participate:
Share the first line (or two) of the book you are currently reading on your blog or in the comments. Include the title and the author so we know what you're reading. Then, if you would like, let us know what your first impressions were based on that first line, and let us know if you liked or did not like the sentence. The link-up will be at
A Few More Pages
every Friday and will be open for the entire week.
Thanks to
Becky at Page Turners
for starting this meme and to
Rose City Reader
for inspiring it!
Happy New Year! One of my New Year's Resolutions is to read more classics. So I just started reading
Wuthering Heights by Emily Brontë
. Here is the beginning:
1801.--I have just returned from a visit to my landlord--the solitary neighbour that I shall be troubled with. This is certainly a beautiful country! In all England, I do not believe that I could have fixed on a situation so completely removed from the stir of society. A perfect misanthropist's heaven: and Mr. Heathcliff and I are such a suitable pair to divide the desolation between us.
This is my first time reading this classic. I haven't really gone much further than the first page yet, but this beginning certainly sets the scene, doesn't it? You definitely get a feeling of isolation out of this beginning.
So how does your current read begin, and what are your thoughts so far? Please leave the link to your specific post, not just to the front page of your blog.
---
---