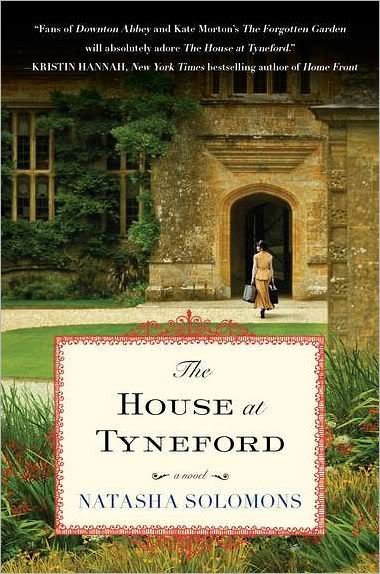 The House at Tyneford
by
Natasha Solomons
Genre:
Historical fiction
Pages:
368
Publication Date:
December 27, 2011
Publisher:
Plume
Source:
NetGalley
Rating:
5 of 5 stars
Book Description
(from the
publisher
)
:
With the advent of World War II fast approaching in Europe, Elise Landau and her family realize that it is no longer safe for Jews in Austria. Elise's father, Julian, and her mother Anna, a novelist and a singer respectively, urge her to advertise herself as a domestic servant in England and trade the loving, bourgeois lifestyle to which she was born for an interim life of servitude away from the Nazi threat. Traveling with only her clothes, a few smuggled keepsakes, and Julian's secret unpublished manuscript hidden in an old viola, Elise embarks with great trepidation for her new life at the estate of Tyneford, owned by Christopher Rivers.
Between worrying about her still endangered parents and struggling to adjust to her new life, Elise learns very quickly how much she has left behind. But when Mr. Rivers' fun–loving son, Kit, returns home, a romance erupts between him and Elise that challenges the aristocratic orthodoxy. Despite his devotion, Kit gets pulled into the war, in a test of their love and the fading of a bygone era.
The House at Tyneford is a story of the possibility of transcending social and class boundaries, as well as a novel about tradition, change, loss, and enduring love.
❦❦❦❦❦❦❦❦❦❦
This was one of my favorite reads in 2011.
The House at Tyneford
is a novel full of suspense, mystery, love, and loss that quickly pulled me in and had me madly turning the pages until the end. From the
first lines
I was reminded of Daphne Du Maurier's
Rebecca
because of the importance placed on a house in both stories, and because both stories are told by a narrator reminiscing about events in her past. Further, at a certain point the main character seems to be haunted by the ghosts of the house's past, but not in the same way that the main character of
Rebecca
was haunted. This isn't a re-hash of
Rebecca
, but a story that brought
Rebecca
to my mind.
Set during the years leading up to and during World War II, the story follows the experiences of Elise Landau, who relocates to England before the war breaks out to escape increasing violence and repression of Jews in Austria. She plans to shortly meet up with her family in the United States but things don't go as planned when her parents are unable to escape Austria as the war begins. So Elise finds herself in a situation where she must learn to be a domestic servant--quite a feat for a girl whose family was affluent enough to have their own domestic servants back home. As the war rages on, Elise struggles to keep up hope for her parents' safety and to find happiness in her new life.
The historical setting of this book was one of the main things that drew me to this book. It explores how Jewish families were affected in their attempts to escape Hitler's expanding influence in Europe. In Elise's case, she is separated from the rest of her family and forced to grow up quickly in learning to take care of herself and keep her employment. The novel also shows how the British homefront was affected and how soldiers' families were so deeply devastated when their sons and lovers didn't return home. The war had a profound effect on everything and everyone in the story--including the town, the houses, and the lives of the inhabitants.
This book was published as
The Novel in the Viola
in the UK, which works well with the story as Elise's father sent an unpublished novel with her to England inside of the family's viola. The novel has a prominent place in Elise's heart, even though she has no idea what it is about and is hesitant to break open the viola to find out. When she does finally get into the viola, the novel holds surprises she didn't expect.
I highly recommend this book. It was a bit predictable at times, but I still found it to be a moving, well-written, and introspective story about love and loss, sadness and hope, and second chances in life and love.
Related Linkage:
Challenges: Historical Fiction