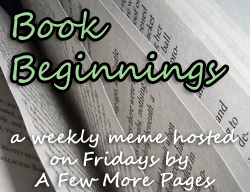 How to participate:
Share the first line (or two) of the book you are currently reading on your blog or in the comments. Include the title and the author so we know what you're reading. Then, if you would like, let us know what your first impressions were based on that first line, and let us know if you liked or did not like the sentence. The link-up will be at
A Few More Pages
every Friday and will be open for the entire week.
Thanks to
Becky at Page Turners
for starting this meme and to
Rose City Reader
for inspiring it!
I just started reading
Candlewax
by C. Bailey Sims. Here are the first lines from the preface of the uncorrected galley:
The farrier cat's whiskers tingled. This never failed to annoy him, for it meant his concentration had faltered. He looked again at his large paws, using his inner consciousness to see what humans might see. He sighed in relief. There was nothing but a shimmering, momentary flicker in the crisp fall air.
This is an interesting beginning because when I read the
synopsis
I was curious about what exactly a farrier cat is. You are introduced right away to this cat, and quickly begin to realize that he is special. This has been a fantastic read so far--I didn't want to put it down last night to go to sleep!
So how does your current read begin, and what are your thoughts so far? Please leave the link to your specific post, not just to the front page of your blog.
---
---