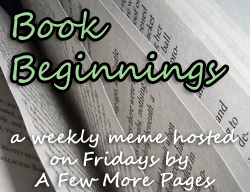 How to participate:
Share the first line (or two) of the book you are currently reading on your blog or in the comments. Include the title and the author so we know what you're reading. Then, if you would like, let us know what your first impressions were based on that first line, and let us know if you liked or did not like the sentence. The link-up will be at
A Few More Pages
every Friday and will be open for the entire week.
This week I'm reading
The Flight of Gemma Hardy by Margot Livesey
. Here are the first lines:
We did not go for a walk on the first day of the year. The Christmas snow had melted and rain had been falling since dawn, darkening the shrubbery and muddying the grass, but that would not have stopped my aunt from dispatching us. She believed in the benefits of fresh air for children in all weather. Later, I understood, she also enjoyed the peace and quiet of our absence.
I had to chuckle at these first lines. Being a mother, I know well the peace and quiet that comes when my children go outside to play for a bit. The first line made me wonder if perhaps a walk on the first of the year is a tradition, though the lines following make it sound like outings are familiar in that family at any time of year.
So how does your current read begin, and what are your thoughts so far? Please leave the link to your specific post, not just to the front page of your blog.
---
---