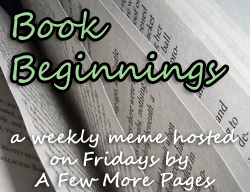 How to participate:
Share the first line (or two) of the book you are currently reading on your blog or in the comments. Include the title and the author so we know what you're reading. Then, if you would like, let us know what your first impressions were based on that first line, and let us know if you liked or did not like the sentence. The link-up will be at
A Few More Pages
every Friday and will be open for the entire week.
Thanks to
Becky at Page Turners
for starting this meme and to
Rose City Reader
for inspiring it!
This week I'm reading
Mariana
by Susanna Kearsley. Here are the first lines:
I first saw the house in the summer of my fifth birthday. It was all the fault of a poet, and the fact that our weekend visit with a favorite elderly aunt in Exeter had put my father in a vaguely poetic mood. Faced with an unexpected fork in the road on our drive home to Oxford, he deliberately chose the left turning instead of the right. 'The road less traveled by,' he told us, in a benign and dreamy voice.
I like this beginning's whimsy. It also tells me that a house plays a significant part in the story, and I'm finding that I seem to enjoy novels in which a specific place plays an important part (especially old houses).
So how does your current read begin, and what are your thoughts so far? Please leave the link to your specific post, not just to the front page of your blog.
---
---