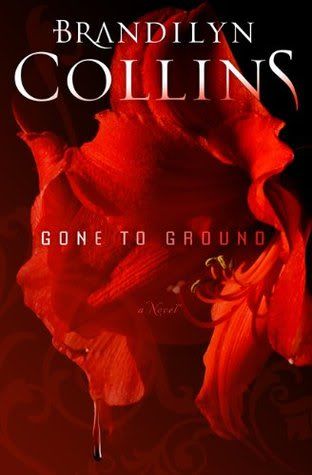 Gone to Ground
by
Brandilyn Collins
Genre:
Mystery/Suspense
Pages:
352
Publication Date:
March 1, 2012
Publisher:
B&H Fiction
Source:
I received an ARC from Tolly at
PR by the Book
. Thanks Tolly!
Rating:
4 of 5 stars
Book Description
(from the
publisher
)
:
Amaryllis, Mississippi is a scrappy little town of strong backbone and southern hospitality. A brick-paved Main Street, a park, and a legendary ghost in the local cemetery are all part of its heritage. Everybody knows everybody in Amaryllis, and gossip wafts on the breeze. Its people are friendly, its families tight. On the surface Amaryllis seems much like the flower for which it's named—bright and fragrant. But the Amaryllis flower is poison.

In the past three years five unsolved murders have occurred within the town. All the victims were women, and all were killed in similar fashion in their own homes. And just two nights ago—a sixth murder.

Clearly a killer lives among the good citizens of Amaryllis. And now three terrified women are sure they know who he is—someone they love. None is aware of the others' suspicions. And each must make the heartrending choice to bring the killer down. But each woman suspects a different man.
✵✵✵✵✵✵✵✵
I've heard such great things about Brandilyn Collins that I was excited to have a chance to read and review her newest novel,
Gone to Ground
, which comes out on March 1. A small southern town grapples with the knowledge that there is a serial killer in their midst. A masterful work of suspense,
Gone to Ground
keeps the reader guessing as three different women investigate their suspicions of three different murder suspects connected to the latest murder. The women join forces to try to connect the dots and ensure that the right people are charged for their crimes.
The novel is told from multiple first-person points of view. The chapters alternate among the three main characters: Cherrie Mae--beloved maid to the Mayor, Tully--young expectant mother in an abusive marriage, and Deena--hairdresser and friend to Pulitzer-prize winning journalist Trent Williams. Each of them have close connections to the people they suspect, and while they would love to learn that their suspicions are wrong, they also want to stop the Closet Killer even if their hunches are correct.
My favorite character was Cherrie Mae! She cleaned people's houses but she also was very well-read in the
classics
and quoted characters like Sherlock Holmes and authors like Charles Dickens! Her reading habits are a lot like mine, too (though I have a Nook instead of a Kindle):
On the nearby table sat my Kindle e-reader, the fancy present my children gave me last Christmas. I couldn't understand why I'd want such a thing until Donelle tol me I could get lots a classic books for free. Wouldn't need to run to the Bay Springs library so much. Right now in my Kindle I was re-readin Alfred Lord Tennyson's Idylls of the King. I kept a little black notebook and a pen next to the Kindle so I could write down quotes I wanted to remember. (47)
What book-lover wouldn't fall in love with Ms. Cherrie Mae? A woman who reads mountains of books and saves her favorite lines for later is a woman I can definitely identify with. She also had the strongest faith of all of the characters, and that, combined with being the oldest of the three women, made her into the inspirational leader of the three amateur investigators.
I really enjoyed the suspense of seeing the evidence through each woman's eyes and how that suspense increased as the police investigation seemed to be going down the wrong road. Although I had started to put the evidence together and had a strong hunch about the murderer, there was a great big twist near the end that was totally unexpected. It was a very exciting and fulfilling read--definitely living up to Ms. Collins's "Seatbelt Suspense" label. If you are a fan of mystery and suspense, I highly recommend this title!
Related Linkage: