Hey everyone! I'm looking for someone to take over Book Beginnings. My zest for blogging has kind of tapered off, and this blog has become pretty quiet over the last few weeks. So if you're interested in becoming the new host for Book Beginnings on Friday, please send an email to afewmorepages[at]gmail[dot]com (include the URL of your blog). Thanks!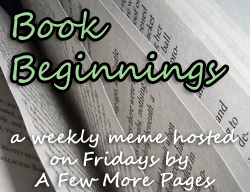 How to participate:
Share the first line (or two) of the book you are currently reading on your blog or in the comments. Include the title and the author so we know what you're reading. Then, if you would like, let us know what your first impressions were based on that first line, and let us know if you liked or did not like the sentence. The link-up will be at
A Few More Pages
every Friday and will be open for the entire week.
Thanks to
Becky at Page Turners
for starting this meme and to
Rose City Reader
for inspiring it!
This week I'm reading
Wonder
by R.J. Palacio. Here are the first lines:
I know I'm not an ordinary ten-year-old kid. I mean, sure, I do ordinary things. I eat ice cream. I ride my bike. I play ball. I have an XBox. Stuff like that makes me ordinary. I guess. And I feel ordinary. Inside. But I know ordinary kids don't make other ordinary kids run away screaming in playgrounds.
This is certainly an intriguing beginning. Just from the blurb I know this book is about a boy with a facial deformity, and finding out that it starts out being told from his perspective definitely makes me want to read more.
So how does your current read begin, and what are your thoughts so far? Please leave the link to your specific post, not just to the front page of your blog.
---
---